Behind the Scenes-Haunted House
Hang on for a minute...we're trying to find some more stories you might like.
A bone-chilling, hair-raising Haunted House has been going underway here at South Broward. This "spook-tacular" event undoubtedly left some kids unnerved and petrified. Let's take a look at how the drama kids managed to scare us all out of our boots.
There were eight rooms in the Haunted House.  The students each have their own rooms to oversee. Some of the rooms included material from Stranger Things and The Purge. All the students came up with their own ideas on what to do.
Shelby and Tatiana are co presidents, all the students in the club have specific jobs for the house, for example there is makeup artists, actors, and tech.
The make-up artists could be found putting gory details on the actors faces. They were even seen using airbrush makeup. The make-up was essential for some of the actors that needed to scare all the kids going through the haunted house.
Although each actor had a role, a lot of improvising happened during the Haunted House event. The roles they had varied from walking backwards towards people in a clown mask to performing an exorcism. There were also kids whose job was to hide out and jump-scare you. Zachariah Perez was one of the actors in the Haunted House. His room was the murderous-looking Purge room. His job was to scare kids as they left the horror show.  "The hardest part for me? Dragging the people," he says with a devious smile.
About the Contributors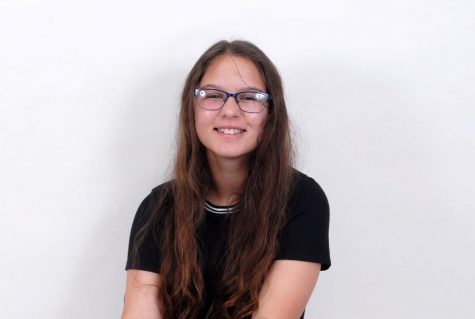 Shea Neiman, Contributor
This is Shea, a very talented and intelligent 9th grader with a passion for music. Over her lifetime, she has played the electric guitar, flute, bass guitar,...