A Cultural Twist on Thanksgiving Traditions
Four SBHS students share what their cultures add to a very American holiday.
Hang on for a minute...we're trying to find some more stories you might like.
Thanksgiving is a holiday that is celebrated differently according to the nationality of the family because of the diversity that exists in America. Some families decide to go out on a dinner, some decide to travel to see family members, and other may decide to have a big party with a little bit of turkey and other platos tradicionales (traditional dishes).
Sage Castle is a Jewish 14-year-old that attends South Broward High School. Her family woke up early in the morning around 10 a.m. on Thanksgiving day to begin preparing the food that will be eaten later that evening.
Unlike many hispanic families that decide to live near each other, most of Castle's family lives in Michigan and California and can't always travel, therefore family friends visited the Castle residence for a scrumptious dinner.
The dinners meals consisted of the usual dish, turkey, alongside brussels sprouts, mash potatoes, sweet potatoes, cranberry sauce, gravy, pumpkin pie, and keylime pie. After everyone was done eating Castle and a friend went out for a walk and talked for a while and that is how they ended their night.
"While I was eating I thought to myself about how thankful I was" states Castle. 
As you probably already know, South Broward High is flooded with Colombians and Emmanuel Rodriguez contributes to this flood. Emmanuel was born in Colombia and is now a 14-year-old freshmen.
His night wasn't much different from other Columbians. Even though he didn't help in the kitchen he did eat a lot and enjoy the time with the family members that he hadn't seen in a long time.
Over at his family member's house there wasn't much dancing. "Most of the people there were old, but not hyped old people, boring old people."
Danny Delgado is a 13-year-old Cuban who spend his night in Hialeah over at his aunt's house. Delgado's Thanksgiving dinner consisted of of the traditional dishes which were made by the "cool uncle" in the family.
He enjoyed his night very much because he was with his cousin which he hasn't seen in a long time.
Carlos de la Cruz Rosa is a 15-year-old Junior that was born in Dominican Republic. On Thanksgiving day de la Cruz spend much of his day playing video games, but once the time came to really celebrate Thanksgiving he got up and got ready to party. Heading to his aunt's house he thought about all the food he will be eating.
"The moon was full so it made the night much more beautiful," said De la Cruz-Rosa.
De la Cruz's family food arrangement was a little different from the rest. His family decided that everyone who will be attending will bring a special dish. Maria, Carlo's mother, brought, habichuelas, beans to the table.
"Everyone danced a lot of merengue and enjoyed their night."
About the Writer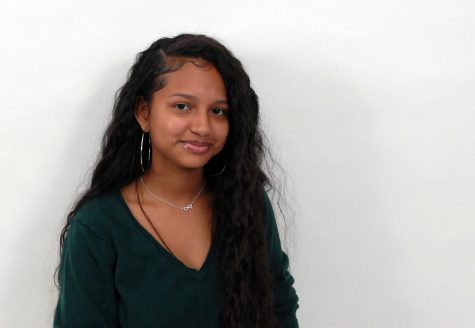 Margarita Daniels-Lopez, Contributor
Margarita is a 14-year-old, 9th grader at South Broward High School. She was born in Nicaragua, which is why her strong Spanish accent comes out every...