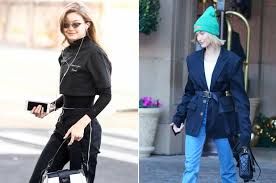 Anti-Gun Violence Fashion
Gun violence is something that has taken over American insanely over the past year.
Nearly 40,000 people died from gun violence in the U.S. last year, which is the highest in over 50 years. More people died from firearm injuries in the United States last year than in any other year since at least 1968, according to new data from the Centers for Disease Control and Prevention. So far, 55 people, including the shooter, were killed in school gun violence.
School shootings this year gave way to a new movement for stricter gun laws, with the March for Our Lives taking off after a gunman in Parkland, Florida, in February killed 17 people at Marjory Stoneman Douglas High School.
Many people have been trying to get their voices heard by expressing themselves differently. Protests against gun violence in the US drastically increased after a ton of mass shootings events, for example the Stoneman Douglas High School shooting that occurred February 14.
Many students across the nation organized a protest in the form of a school walkout occurred on March 14, that stirred a lot of news. March for Our Lives was held on March 24 in support of many of the lives lost in the shootings and for peoples rights against gun violence. These tragic events occurred in 2018.
Gigi Hadid has recently expressed herself when she was traveled  to and from the Prada men's Fall 2019 show.  She was wearing a cropped black T-shirt from the philanthropic label Krost with the words Support Your Friends embroidered on the front.
The Krost organization was founded last fall by Helmut Lang alum Samuel Krost and is the first official fashion partner of the March for Our Lives organization.
In a few days from now, February 14, marks the one-year anniversary of the tragedy, and since then, according to the Gun Violence Archive, the U.S. has experienced over 300 mass shootings. The shirt's meaning is a reminder that it takes community and friendship for change to happen.
Coming together to support one another and stand strong on the events of gun violence in America is the idea upon which the March for Our Lives group was founded. Here's hoping that the millions who follow Hadid's every move will be motivated to join the movement.
Recently on Jan 31, 2019 there has been a fashion show in Boston, Massachusetts to which dozens of models all shared one thing: they all had lost relatives to gun violence.
In the picture that is provided, is Ashanti Syed, whose uncle was killed in a shooting on Valentine's Day 2018, adjusts an African-inspired gown designed by Akwasi Oduro Boakye Yiadom. Several local designers showed their work at the Sunday event aiming at maintaining awareness of mass shootings in the United States.
"We wanted them to represent their lost loved ones, come to the fashion show, be in the fashion show," says Activist Asia Jackson. Jackson organized the event with the organization "We Are Better 2gether,". "We can turn the pain into purpose" people are saying that they believe that this was a way we could rise some awareness without violence.