How Couples at South Broward Are Planning to Spend Valentine's Day
Hang on for a minute...we're trying to find some more stories you might like.
Valentine's day is a holiday in which people celebrate love and affection, celebrated on February 14. People have different ways of celebrating Valentine's day, from doing simple things such as sending a cute little cards and chocolates or just saying "I love you," to going above and beyond and taking each other out and having each other spoiled. We decided to interview a few of the couples found in South Broward High School and asked them how they planned to celebrate the day.  
Lilly Stella and Kris Arroyo
The first couple to get interviewed was freshman couple Lilly Stella and Kris Arroyo. They began dating on May 19 2018, in the seventh grade after school.
"I kind of just saw her around 'cause I was too scared to talk to her," said Kris. He at first had a crush on Lilly, but little did he know- she felt the same way about him. 
"I thought he was cute but we've never spoken before," said Lilly. The two kept waiting on each other to make the first move, when one day after school they finally hung out in a group with all of their friends and bonded instantly. One word they would use to describe their relationship is "special." Kris's favorite thing about Lilly is how caring she is and Lilly's favorite thing about Kris is his honesty. For Valentine's day Kris is planning to take Lilly out to Carrabba's, an Italian restaurant since she loves Italian food.
Hannya Barbosa and Draven Licolli
The second couple that got interviewed were freshman Hannya Barbosa and junior Draven Licolli, who began dating on December 10 2018. The couple met through mutual friends who gave them each other's Instagrams. From one like of a picture and a direct message they began talking. This all began from an internet crush.
"I could've sworn she was an Instagram model," said Draven when he first saw Hannya's page. As the couple got closer they caught feelings and began dating. Hannya's favorite thing about Draven is his laugh- "Its so cute, just everything about him is adorable." Draven's favorite thing about Hannya is how caring she is. Their favorite moment together so far was when she came over and met Draven's family.
"They instantly liked her, how could they not? She's a sweetheart." After bonding they played a friendly soccer game with Draven's whole family. The couple is planning on not going to school on Thursday, and spending time together instead.
Nicolas Almeida and Dakaya Moultrie
Nicolas Almeida and Dakaya Moultrie are both freshman at South Broward, and they've been dating since December 1st 2018. The couple met in middle school, where they had each other in most of their classes. They stopped talking around eighth grade but got back on track with their friendship this year due to having classes together again. "After school we go out to eat, go to the park or beach, or we could just chill and play video games together. It's always a good time with her," Nicolas said. Dakaya's favorite memory of them was their first kiss." We were under the 700's by the vending machine, he was tickling me and there was a point where I looked him in the eyes and he leaned in, so I went with it." One word the couple would use to describe their relationship is fun. For Valentine's Day the couple is still undecided on what to do, but know they want to be with each other for a fact.
About the Writer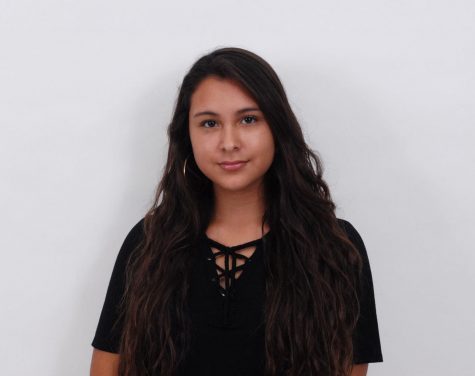 Antonella Benitez, Contributor
Antonella Benitez is a freshman at South Broward High School. Benitez is enrolled in Journalism and is interested in graphic design. She signed up for...