South Broward Welcomes Coach Veszi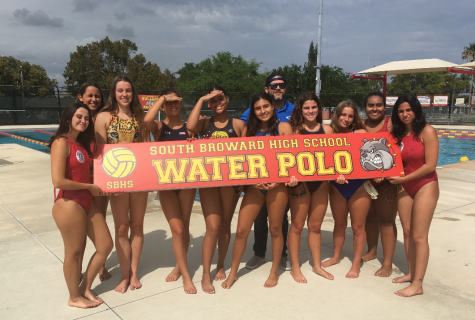 Grace Schell, Writer
May 18, 2019
South Broward High School welcomes coach Mark Veszi as a new Water Polo coach. Coach Veszi was recently hired to coach the school's water polo team.
The High School has now had a water polo team for a few years. The players have welcomed their new coach by working the absolute best they can.
"Veszi is always pushing us to do our best and play our hardest in every game, and I really appreciate that. I like to play water polo because it's a good workout and fun. I've always liked to challenge myself and water polo does just that" said sophomore, Hope Silverheart.
South Broward High school has the water polo divided into girls and boys. The sport is quite popular among high school students. Students who on the team are known to do their hardest to succeed in the sport, and it has been proven. The girl's team won district championship by beating St. Thomas Aquinas high school 22-4.
"All of the coaches give me the motivation to succeed in the sport… I do the best I can to reach my expectations. I really love playing on the South Broward team and I couldn't ask for better coaches." said Silverheart.