SBHS Softball Takes 18-8 Win Over Taravella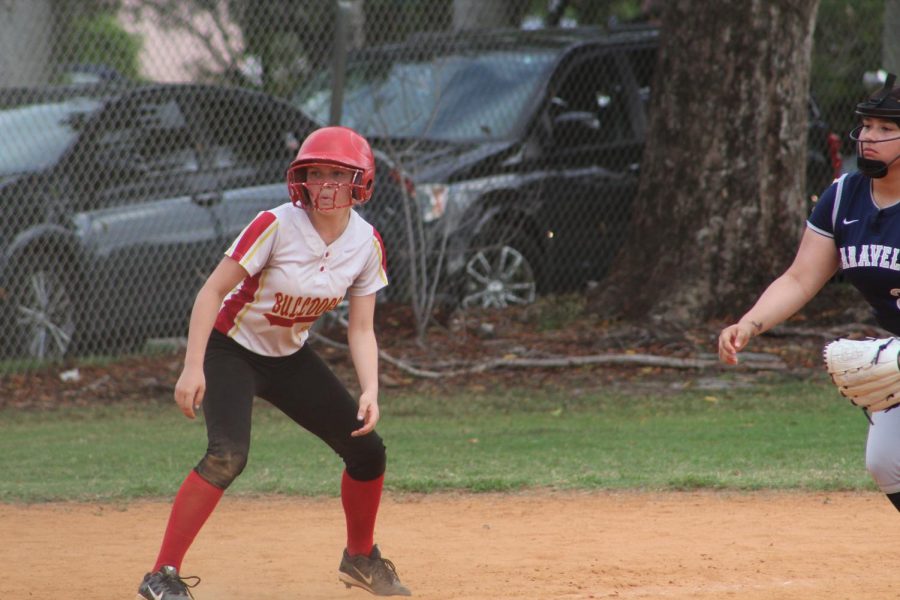 Reyna Maya, Contributor
May 17, 2019
In a high-intensity offensive shootout at South Broward High School on Wednesday, March 13, the SBHS Lady Bulldogs softball team defeated the Taravella Trojans 18-8.
The game started off in favor of the Trojans, scoring 5 runs and SBHS scoring none in the first inning, but the Bulldogs did not lose any hope and continued to fight.
SBHS pitcher, Taylor Schirgio (Sophomore), held them to their 5 runs in the second inning, striking out all three batters that faced her. The Bulldogs had to support their pitcher and pulled through on offense, scoring 5 runs, tying the score.
The Trojans scored 3 more runs, but that was it for them for the rest of the game. The Bulldogs stepped up defensively and did not let them score again. Tina Franco, sophomore, caught three beautiful pop flies in center field. Franco, along with the other outfielders, let nothing past them.
Fourteen runs were scored by the Bulldogs, taking a ten-run lead, ending the game early in the sixth inning. Pitcher, Courtney Cortello (Junior), came in and shut the game down, and did not even give the Trojans a chance to catch up, holding them to their 8 runs.
The Bulldogs played a great offensive game, with not one player striking out.
Head Coach March and assistant Coach Casey were very impressed by the team's intensity, optimism, and communication skills.
"We were behind early, but never gave up and never put our heads down," Coach March says. "Through an explosive offensive showing we were able to fight back and ended up winning by 11. This game showed not only the talent of our team but the heart."
Throughout this game, the Lady Bulldogs showed their mental toughness, playing well both offensively and defensively, and shut down the Trojans, never looking back.