First Time for Flag Football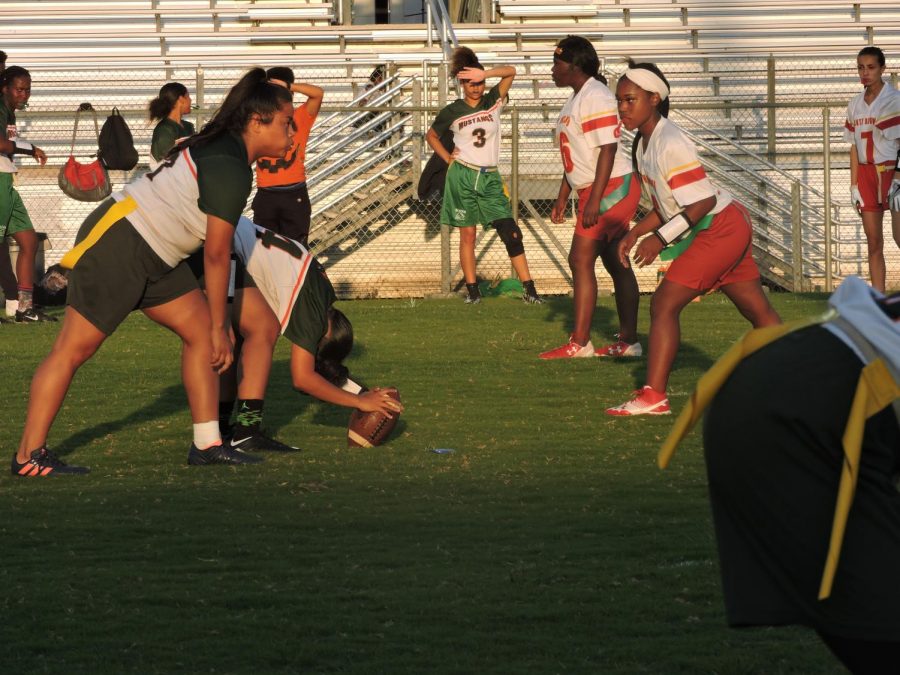 Abigail Patterson, Contributor
May 22, 2019
There's a first for everything, in this case Mercia Matthew is taking a shot at trying a new sport. Growing up Matthew was always a fan of watching basketball or football at home and has a sports background in her family with her mom previously being quite the athlete by playing rugby. After playing volleyball her eighth grade year she realized she loved it. When Matthew entered high school, she always knew she wanted to be active in a sport however she didn't know which one. Her freshman year she thought volleyball would be the fit for her, after finding out it wasn't, she quickly lost interest in playing any sport.  
"I felt like the sport should in a way come to me," Matthew said, "and after it does then you put the work in, all the blood, sweat, and tears."  
Her freshman year finished, and she forgot about sports for a while. She found herself looking for something extracurricular to do her Sophomore year. Not wanting to try out for volleyball again and still not knowing what sport she wanted to do, she decided to join a club.  
She joined Interact club, a small club where kids earn the chance to gain service hours by helping in their community. Interact took a huge part of her year, from all the service projects to the meetings she found an extracurricular that she was happy with. After a while it started to feel like something was missing.  
"Honestly love being a part of a team it's very humbling and I like the responsibility of doing sports and it's my last year might as well go out with a bang." Mercia emphasized.  
She enjoyed the club and its perks, meeting new people, getting many service hours, and feeling like she was a part of a group, but it still didn't feel the same as being on a team. As Junior year rolled around the idea of Flag Football caught her interest. She was too nervous to go out alone but promised to try out her Senior year no matter what. As tryouts during her senior year grew closer her nerves almost got the best of her, however she pushed through.  
"Not going to lie I was nervous, and I still get nervous," Matthew admitted, "but when I'm on the field I have lots of fun with my team and I have my best friend Abigail to support me at every practice and every game."  
So, she marched herself on the field with no experience, but with determination and perseverance. She went through tough practices day after day, pushing herself passed her limit but never giving up, which landed her a respected spot, number 9, on the team.  
"When I found out I made the team I was very excited but because the other girls were skilled I had to push myself and work a little harder," Matthew stated, "it's humbling and it's a fun experience I'm so excited for this season."