Seeing Red
South Broward students share some of their most embarrassing moments
Hang on for a minute...we're trying to find some more stories you might like.
 We all have had a few embarrassing moments, here a few embarrassing moments from SBHS students.
Kerissa Fransico, a ninth-grader here at SBHS, went to her home country dressed classy. She wore heels while walking down some steps.
She rolled down the steps tremendously fast, her mother laughed and helped her youngest up.
If she could go back in time she would do this moment over because she learned to not go downstairs in a pair of heels without being careful. 1
She does not regret this moment because it's a great memory.
"You tend to learn life lessons from embarrassing moments, I know I did." She laughed while shaking her head. 1

Kyla Williams a ninth-grader here at SBHS talks about her very first day at SBHS and how she rushed to class that was full of 12th graders.
She spent most of 10 minutes catching up with friends instead of looking for her third period.
She noticed it was almost time for the bell to ring so she rushed off to find her class on the third floor of the 700 building.
As soon as she walked in the bell had rung, the teacher grabbed her schedule and frowned.
She told her she was a freshman that its a senior class loudly in front of  the entire class.
Her cheeks turned rosy red as they laughed she had to be escorted to her correct class.
"I learned to go straight to class instead of taking my time blabbing." She said Playfully rolling her eyes
An anonymous  student told us about his most embarrassing moment at the mall.
He was in a popular shoe store during black friday and he farted very loudly.
The worker who was helping him out heard it and his mom frowned at him.
No one else noticed but his mom, the worker, and his little sister.
She yelled out very loudly, " Ew you stink! You passed gas!"
A few young kids laughed as his face turned red as a tomato.
He regrets this moment dearly because his mom walked out and didn't buy the shoes.
He  learned to hold in his farts and not to fart by his sister ever again.
"I don't care If I'm gonna explode I'm not farting in public ever again." He said while rubbing his arm.
Another anonymous student at SBHS talks about her peeing herself while laughing too hard at an arcade.
She was laughing at the joke a friend told and peed on herself and then laughed harder once she realized and peed more.
Her friends and mom were laughing as well as herself.
She had to wait for her mom to come back to the theatre from home to bring her more clothes while her friends watched the movie.
She regrets it because she missed almost half of the movie.
She learned to pee before hanging out with friends.
"I kinda don't regret it because it's a great memory."  She shrugged her shoulders.
Embarrassing moments sometimes can be beneficial. 
About the Writer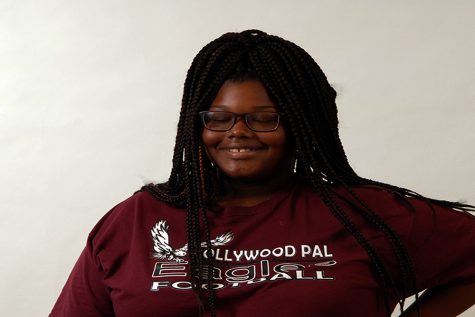 Ryazia Allen, Contributor
Meet Ryazia Allen, a freshman at South Broward High School. She signed up for this class to get out more and write. She feels that her greatest strength...