Wrestling Bulldogs
A look into South Broward's 2017-2018 wrestling team
Hang on for a minute...we're trying to find some more stories you might like.
Antonio Jimenez is one of the newest additions of the wrestling team at South Broward, competing in the 106 weight class. The 9th grader is very passionated and hopeful for the upcoming season.
"I'm most excited about getting better and being able to not only win my own matches, but also see my teammates improve as well," said Jimenez.
He has goals to make it to districts and one day become a champion. Under the leadership of Coach Randy Qualitza they usually practice Monday to Saturday every week, they learn new moves everyday and spend most of practice time going over them again and again to get them perfect.
"Coach will show us a move and ask us to drill it with a partner , then towards the end we review what we did and apply it during a match"
All the hard work of the wrestling team pays off when they win at games, last game getting a 3-0 score beating 3 schools that day. In order to get motivated Antonio watches the more experienced guys on the team and try to learn from them.
"That pushes me to keep hustling".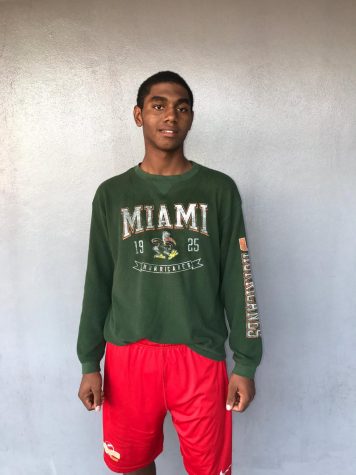 I then spoke to wrestler Patrick Robinson who is new to the sport of wrestling. Unlike most of the guys on the team this is his first time learning wrestling and has been inspired by the team.
"I can say that the team and coaches really showed me the style of wrestling as a beginner." said Robinson
He considers his dad has one of his role models and often goes to him for motivation in his sport.
"My dad would always tell me that to be the best you have to beat the best, so I really try to learn much as possible".