Wrestling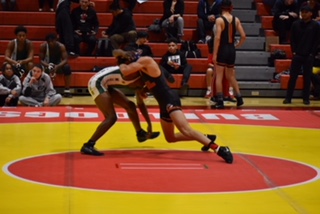 Hang on for a minute...we're trying to find some more stories you might like.
   At the BCAA County Wrestling Championship, thirty schools competed head to head to move on to the top four to compete against each other .
   South Broward made it to the top, and on Wednesday January 31, the school wrestling team won against the three top competing schools. For the last four years, the South Broward wrestling team has been in the top 10 of the county.
    People may say they understand wrestling, but it's more than just two people trying to pin each other down to the mat. It's about stability, and the ability to stay focused.
    South Broward's head wrestling coach, Coach Q,  said, "The hardest part about wrestling is staying focused and learning a skill set."
    Wrestling is a mentally tough combat sport, and is also one of the safest sports to compete in. This sport uses mind- over-matter, and teaches you how to be intellectually prepared. Not to mention wrestling teaches you perseverance despite difficulty or delay in achieving success.
Wrestling teaches you how to defend yourself.
One important thing wrestlers learn is how to win and lose. In some sports when someone wins or loses, they sometimes tend to act childish. Meaning when they win they have to much pride.       They're not a team player.
  "Wrestling teaches you how to win and lose with humility and grace," said Coach Q.
  Wrestling is the sport for you, if you like physical contact.
  For anyone who wants to wrestle you have to make it a lifestyle. Your habits, attitude, and moral standards must revolve around wrestling.                     
  American olympic, retired wrestler Dan Gable said, "Once you've wrestled, everything else in life is easy."    
  What's significant about wrestling is every time you wrestle, new strategies are invented. You create you own skill set.
  Olympic freestyle wrestler Jordan Burroughs once said, "To get better you have to step out of your comfort zone, you can't do the same things you've always done and  improve."