Teachers With Guns, A Terrible Idea
Hang on for a minute...we're trying to find some more stories you might like.
As if arming BSO officers with the deadly ar-15's, a military grade gun used in many school shootings because of the amount of bullets it uses and how quick and easy it is to use and 
obtain
, wasn't enough, they decided to let the teachers have a chance to stand their ground against harm with guns, as well
.
However
, this is the stupidest idea of them yet.
About a month ago, one of the worst school shootings in the nations's history happened at a Marjory Stoneman Douglas High School, in Parkland FL
.
Seventeen lives
were lost
that day, and, unfortunately, this wasn't first shooting this year
. 
According to Courtland Jeffrey, of ABC news, there have been 19 shootings on school campuses as of March 2
.
These recent tragic events had a lot of grieving students angered.
Why was the government sending thoughts and prayers, when they should be working on ways to protect students
?
What steps are we taking to help better our schools' safety?
You would think that our government, as bright as they are, would be trying to take guns out of schools, but they're putting more in
.
Teachers with guns has already proved itself as a bad idea. Some stories have surfaced recently of teachers firing guns
accidentally
in schools.
One story is of a California teacher who injured three kids while teaching his class about gun safety.
According to Time.com, "Dennis Alexander, who is also a reserve police officer, was pointing the gun at the ceiling to make sure it was not loaded when the weapon discharged Tuesday inside his classroom at Seaside High School in the coastal community of Seaside
."
Mr. Alexander did not
seriously
injure anyone,
however
, if his gun
was lowered
, he could've killed a student
.
Teachers already have enough stress as is dealing with over a 100 students everyday. Arming teachers would lead to more problems and even more 

casualties

than before.
Another reason arming teachers is a terrible idea, is that the government is expecting all teachers to be brave enough to get their gun and open fire at another armed person
.
Although, there are many selfless teachers and staff that are brave enough to go up against a school shooter without a weapon, that is a small majority
.
Even arming teachers or staff is no guarantee, the security officer at Stoneman Douglass, tasked with protecting his school, ran the other way as Nikolas Cruz was massacring students in the school.
According to Peter Burke of Local 10 news, "The Broward Sheriff's Office has released surveillance video the video that shows a school resource deputy failing to enter the building where former student killed 17 people and wounded more than a dozen others last month at Marjory Stoneman Douglas High School."
Even though, he is still under investigation for internal affairs, if we cannot count on our security officers to protect us, then why should we trust teachers to do the same
.
Everyone deserves an education, and should not fear school for any reason.
We are not asking to ban all guns but if we put higher standards and restrictions on guns we could have a safer society.
America is one of the only countries in the world to have school shootings and its become an epidemic.
If we cannot give up our guns to protect our students, or our children. The people of the future. Then what is the point of sending students to school? What is the point of letting kids learn if they cannot use their voices to better our country?
Teachers should focus on helping students prepare for the real word and not worrying about having to engage an active shooter in a gun battle. This isn't the Wild West.
Ms.Piro, a math teacher at SBHS, stated, "The day I need to bring a gun to school is the day I will no longer come to school and be a teacher
."
Arming teachers with guns is not as important as arming our students with the knowledge and sensibility of running our future.
About the Writer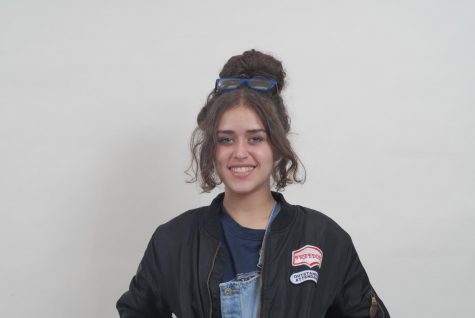 Harolyn Maldonado, Contributor
Harolyn Maldonado is a 14 year-old freshman at South Broward High School. She was born in Worcester, Massachusetts. Her passions include playing volleyball, reading, shopping for clothes and putting together fashionable outfits. Out of school, Harolyn's favorite types of books are historical fiction and she enjoys watching movies with her friends. Her favorite genre of movies is romance.  Some of her favorites things are Tim Burton movies, cacti, ants and the colors yellow and pink.