Hear ye, Hear ye
SBHS Prom King and Prom Queen
Hang on for a minute...we're trying to find some more stories you might like.
This year, SBHS had four people running for prom queen: Zhania White, Anniceya Johnson, Andreah Pierre, and  in an usual commentary on gender equality, Carols Desrosiers. Another male student is running for the more traditional title of prom king: Eldric Harris.
Weeks before prom, some student promoted themselves in and around school. Johnson and Harris plastered  posters on the walls around the school, while White launched an Instagram campaign. Students voted on their choice during the prom celebration, and winners were announced and crowned there in a ceremony.
In the end the old school posters paid off, and  longtime couple Anniceya Johnson and Eldric Harris, who have been together since freshman year, were crowned prom queen and prom king.
About the Writer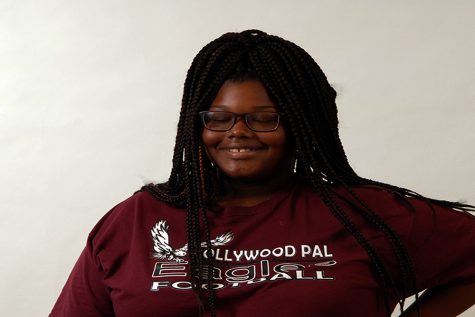 Ryazia Allen, Contributor
Meet Ryazia Allen, a freshman at South Broward High School. She signed up for this class to get out more and write. She feels that her greatest strength academically is reading, on the other hand, her greatest weakness is math.  She reads many types of media but articles on Snapchat are mainly what she reads. Three people she would like to meet, alive or dead, is her grandfather's mother, Rosa Parks, and Martin Luther King. She loves all types of music because she likes to try different things, also some activities she does when she's not at school is helping her mom or, practicing for color guard. A person she aspires to be and admires is her mother because she's a single mother and works very hard for her.