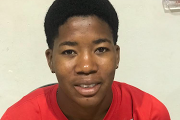 Ms. Beneby
Ms. Beneby is an gym teacher at South Broward High School. She is also a former alumni of South Broward herself. She played three different sport while in high school; Basketball, track & field, and cross country.
For the most part, Ms. Beneby lived in Florida majority of her life she say that she likes it for the most part, being  entertaining and having her family with her is a plus.
When asked about hurricane Irma she said "It was a tragic event, but not for me personally. I feel bad for all it affected negatively.