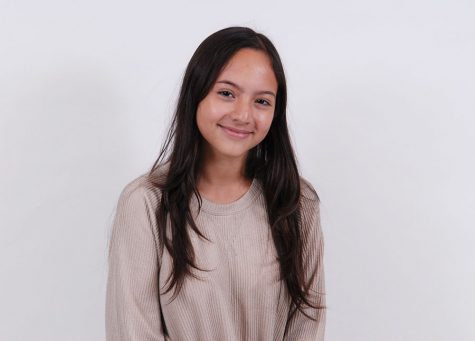 Meet Daniela Villafane a 15-year-old high school student who attends South Broward High School and is an aspiring surgeon. She signed up for the class so that she can spread the news to everyone.  From this class, she expects to take her photography skills to a new level.
       Villafane is passionate about animals. Her favorite animal is the dolphin. A great advantage about Villafane is that she is able to memorize things easily. A disadvantage about her is that she gets distracted easily.
Villafane
gets most other information from Instagram. She usually checks Instagram everyday but not for long. Villafane enjoys watching Netflix and hanging out with her friends.
     Villafane swims as a recreational activity. Her inspiration is Shakira.
W
hen asked why Shakira is her inspiration, she responded "Well, because she is Latina." She said, "When she was going to sing her first song
in
English
everyone though that she was going to have an accent, but she sang without any accent." 
      Villafane's music interests include many things but the genre she listens to the most is pop. Her favorite singer is Shawn Mendez. Villafane's usual daily wear include a hoodie, jeans, and sneakers. Some of her favorite things include Titanic, pasta, dolphins, roses,
blue
, and "Go Ask Alice" which is a book by Beatrice Sparks. Some places that she would like to visit is Dubai, Paris, and Italy. 
       In ten years, Villafane would like to be a surgeon. The main reason that she would like to be a surgeon is to
help people
. If she was able to have superpowers, she would become invisible
.
Daniela Villafane, Contributor
May 11, 2020

Teenagers Risk Their Health for Coronavirus Trends

(Story)

Mar 04, 2020
Jan 29, 2020

Humans of Community

(Story)