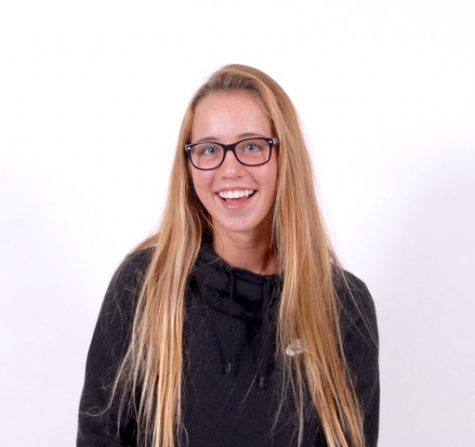 Isabel G
leeson
 is a curious soul, seeking adventure behind the lenses of a camera. She is a motivated web designer and catches the thrill in any moment. With journalism being one of her interests in school, she figured why not and try it out? She hopes to develop stronger photography skills and to excel in becoming a more profound and detailed writer. With her passion being the foundation of her success, there is no preventing her from accomplishing her goals. Her academic strengths lie in the study of science and along with her academic weaknesses, she is quite awful in historical studies and finds no appeal really when it comes to English literature. Media that interests her is mostly along the lines of social media, including Instagram etc. , books and as she would put it in her own words, "
Poemy
-book-type-things." If she is engaged by the text while reading, she claims she could read for hours at a time. Astonishing isn't it?
 If you enjoy playing volleyball, 
then
 Isabel is the girl for 
you.
 But if you simply wish to chill then she has no problem watching some 
Netflix
 originals with you too. Just remember to 
bring
 popcorn. Although 
she's
 already as sweet as sugar, she wishes to improve 
herself
 more to always have a 
positive
 attitude, even in bad situations. Her longing power is to be invisible so that she can 
easily
 sneak in airplanes and travel anywhere in the world. A genius master plan if you ask me. You might see her usually wearing a sweatshirt with 
some jeans
 and vans to give off her summer vibes along with her Bob Marley music playing in the background. She aspires to be dedicated to all obstacles in life 
whether
 good or bad and to face any problem head-on. This 
fifteen-year-old
 young lady is bright and looks forward to a future with college 
degrees
 and a long-lasting career. She will do whatever 
it
 takes to make sure her future is a happy future. 
 So, I recommend you befriend her ASAP!
Isabel Gleeson, Editor
May 28, 2019
May 23, 2019

Class of 2019 Prom

(Story)

May 21, 2019

This is Margarita and Her Hair

(Story)

Apr 12, 2019

Boys Volleyball Smoothie King Tournament

(Story)

Mar 07, 2019

The Counselor Controversy

(Media)

Feb 25, 2019

IDs, What Are They Good For? Absolutely Nothing.

(Media)

Nov 06, 2018

Girls Volleyball Season Comes To A Close

(Story/Media)

Mar 01, 2019

Chinese International Students

(Media)

Dec 18, 2018

Margaret Curtiss

(Story/Media)

Dec 14, 2018

Marine Lab Field Trip

(Story/Media)

Dec 10, 2018

Boys Soccer Team Wins Against Cardinal Gibbons High

(Story/Media)

Nov 28, 2018
Oct 24, 2018

Homecoming Week 2018-2019

(Story/Media)

May 22, 2018

Boys Volleyball Give it Their All in State Finals

(Media)

Nov 21, 2017

SBHS Girls Volleyball Season 2017 Winds Down

(Media)