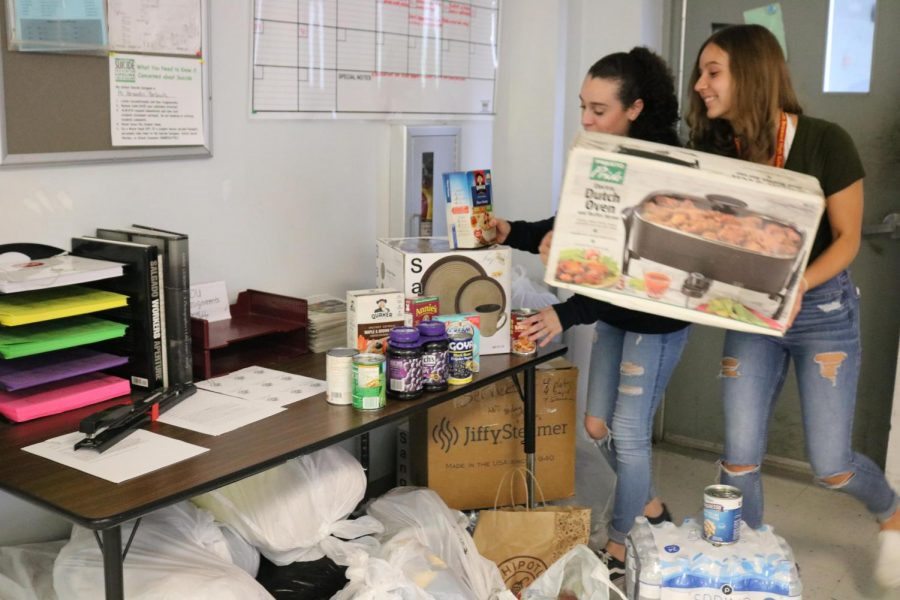 Valery Lenti-Navarro
Senior year is a year full of prom, senior night, field trips, caps and gowns. It's a year of endings. But for some SBHS students, this particular year is a year of beginnings.
At least for Taylor Aveaugn it is. Taylor is a senior who recently had to leave her home in the Bahamas and move to Florida because of all the damages caused by Hurricane Dorian.
Although the eastern part, where Taylor is from, was not destroyed. The damage to the western part was so severe that schools are still closed. She has a cousin who lives in the Grand Bahamas that completely lost her home. 
"I wouldn't say my experience was bad because I'm still alive, but I was definitely scared since I didn't know what was happening," said DeAveaugn.  
Clubs, such as key club, Latinos in action and yearbook, at South Broward organized a donation drive. SBHS students brought in canned food, water, board games, toiletries, clothing, silverware – and even small appliances like dutch ovens.
"Some things have been shipped out, but we are still shipping out the rest from other clubs that donated in this." said SBHS softball coach, Mr.March.
The outpouring of help from the school has touched Taylor's heart.
"I feel very touched by this because it's so sweet how many people from this school know about the Bahamas and what we went through. I'm happy to see people wanting to help them out," said  DeAveaugn.
Hurricane Dorian ravaged the islands in the Bahamas and caused devastating damage. The category 5 storm had sustained winds of more than 180 mph, and hungover Abaco and Grand Bahama island for 24 hours. It left homes destroyed, 61 deaths and 282 people missing.
The  catastrophic storm left the Bahamas with over $8.28 billion USD worth of damage. 
Urnik Forbes is a freshman at South Broward High School that experienced Hurricane Dorian with his grandma in the Grand Bahamas. He saw how the storms strong winds would shake cars leaving him completely petrified.
"During the hurricane, I saw how the winds lifted up a dog and hit the electrical pole," said Forbes.  
Although he had to leave his home due to the damage, he feels very welcomed  at South Broward, and is ready to start a new chapter here.  
"I'm feeling very welcomed here at South Broward. It's tough having to leave my home but I'm ready to make this year a good one," said Forbes.
At this printing, Urnik Forbes had withdrawn South Broward High School.