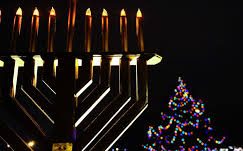 Holiday Season Kicks Into Full Gear
With Christmas and Hanukkah just around the corner, the holidays are a time that magnifies the festivities and livelihood of the winter spirit. All around the globe, people anticipate the times of gift-giving and family reunions.
Whether you celebrate Christmas, Hanukkah, or Kwanzaa there are endless possibilities for festivities. South Florida has made its own way in keeping the festive times entertaining from the Candy Cane Parade at Hollywood Beach to the Holiday Spirit Week at South Broward High School.
South Broward is in the mood to celebrate as the Holiday Spirit Week hosted by the school's SGA has activities for each day of the week to get students to participate.
The Journalism classes have worked on a Holiday section of The Bulldog Bark to shed light on all the events happening in South Florida this holiday season. With stories in how families decorate their houses and the traditions, they keep to the community events occurring this year, everything to know about the holiday spirit this year is here.