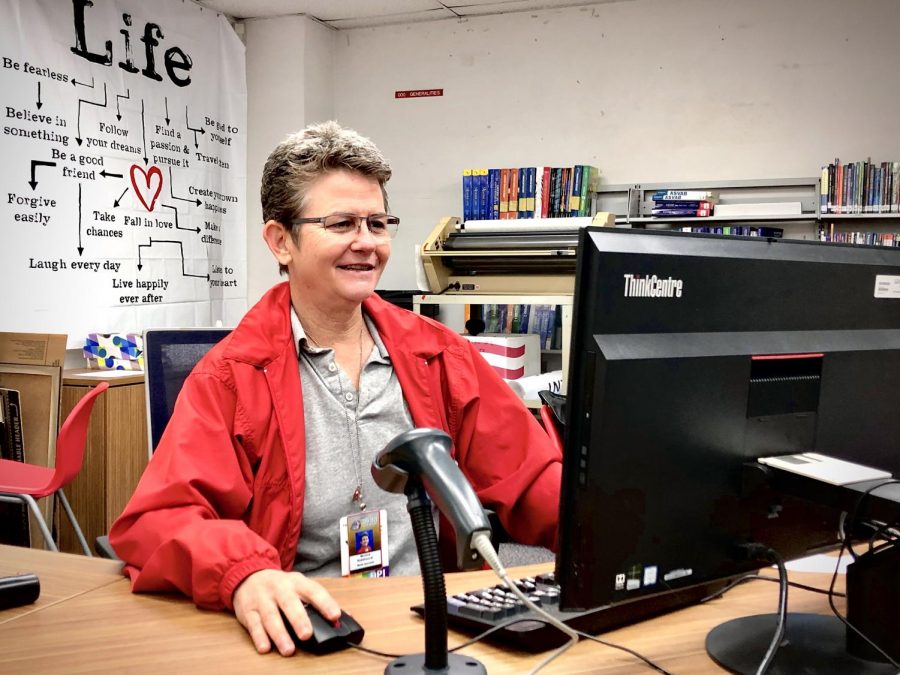 Monica Ridlehoover, Media Specialist
As one walks around South Broward High School's campus, they may stumble upon the Media center. This area may be the very heart of the school itself. It is many student's go-to hang out spot. The aura is welcoming and refreshing as it can be a calming break from the stress of school.
However, many don't realize the work it takes to keep up with the library. Monica Ridlehoover is the Media Specialist, which means she looks over and takes care for the space. In other words, she is the very center of everything that goes on in the background.
As far as her teaching career, Ridlehoover is in her 30th year of education, with it being 22 years as a science teacher/teacher for South Broward and recently her last eight years as the Librarian for South Broward. The journey to the place where she said, "This is where I ended up, this is where I belong," hasn't been a straight pathway.
In the beginning of her college years in Florida State University, she thrived to become an entomologist, the study of bugs. Ever since she was younger, she loved insects and everything about science. But to obtain a decent job in the science field requires a PHD degree. With the thought of student debt, she averted from that and decided to teach biology to people. Ridlehoover passionately said, "I always loved teaching about nature, so to teach biology to others was the next best thing, and turns out to be the best decision I've made."
Her media career only started a little bit ago though. In 2006 she went back to school to get her master's in Library/info services in FSU online. This was because she saw a need in the school for a media specialist and she wanted a change, so she got the degree needed just in case a spot opened up. "I always wanted to be a librarian, I was always a bit of a book nerd.
The new job opened up a new horizon of opportunities. It's more flexible, but there are more responsibilities. At the end of the day though, she gets to meet more students. She gets to connect to more kids in a more personal level. Over the years many of her previous students have contacted her and told them how she changed their lives, how they went down science career paths and absolutely loves them. She doesn't feel any burnout because she's still in the early stages of her "new" career, her new full-time passion, the very place where she feels as though she belongs.
"Everything is worth it, because at the end of the day, at the end of your life, it doesn't matter the amount in your bank account, all that matters is the impact you have on others."