Covid-19 Puts Highschool and College Basketball on Hold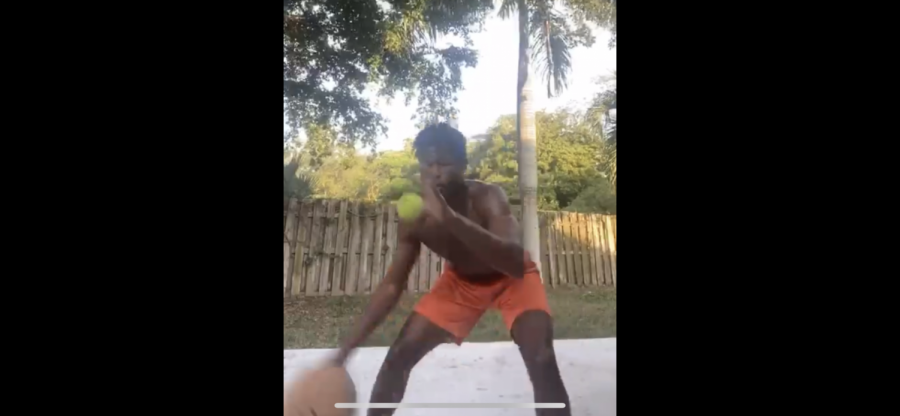 SBHS junior Charles Smith, 16, a point guard for the Bulldogs, has every expectation that he will get a basketball scholarship to college. The six foot tall guard was known as the sniper of the team, scoring an average of 14 points per game, half of them from the three point line. Like most juniors, this spring he was headed out to tour colleges. One of them was Yale University.
But, COVID-19 stopped everything. 
"It's my dream to play in college," said Smith."But, now I'm working out in my bedroom, trying to stay in shape since AAU is suspended."
Amature Athletic League, AAU, is a national basketball organization where school age players across the country play in tournaments to better their skills and hope to be noticed by a college scout. Now that's not an option.
Like Smith, thousands of high school basketball players who were planning on playing in college and university teams on a scholarship, are now analyzing other ways to show college coaches their skills other than highlight videos. 
"I'm going to have to send my videos from last season instead of getting to take videos during travel season," he said.
That means, college coaches won't get to see Smith at his best, since he would have greatly improved from last season. It also means basketball players who need more recognition, which could have come from college coaches at those tournaments, will not happen since they are suspended for now. 
Take for example, Karl  Cherenfant, a towering junior point guard for Calvary Christian Academy, he was looking forward to his summer, now he's working out in his room just like Smith.
"This was supposed to be the year that I start getting a whole bunch of offers. Now I don't even know if the college coaches are checking their phones because of this pandemic," said Cherenfant.
What's more, the NCAA has stated on their website that current college seniors will be given an extra year to play in college games and finish out tournaments. That's crushing news to senior high school players. Now instead of incoming freshman getting their full four years to shine, the seniors that should have graduated will take the spotlight.
Caleb Ullysse a 6'4 forward at Calvary Christian Academy, was excited to commit to his TBA college for basketball. his mood quickly changed once he heard the news.
"It's basically as if I'm going into college for 3 years because ill be sitting on the bench cheering on my teammates for the first year," said Ullysse.
Not to mention the basketball players that are already in college. Their games were all abruptly canceled, even the biggest end of the season tournament called March Madness. That was crushing for East Tennessee University freshman Damari Monsanto. The 6'8 guard received a Division 1 scholarship to play for the Buccaneers, who won their division and were scheduled to play in the March Madness tournament.
 "I can't believe I missed my first March Madness tournament," said Monsanto. "This is what we have worked for all season and now its gone."
 The possibility of a second wave of the virus could extend the problems into the fall, holding back this upcoming basketball season even more. Athletes may have to send college coaches old videos and wait for senior season to try and possibly get a scholarship.
 "I hope this pandemic is ends soon, because this could ruin thousands of athletes careers," said Smith.
About the Writer
Bianca McDowell, Contributor
Bianca McDowell is a 16 year old student at South Broward High School. She is a junior, an avid basketball player, and a great science student. But, she...