SBHS Art Students Decorate Vans Shoes in Effort to Win $25,000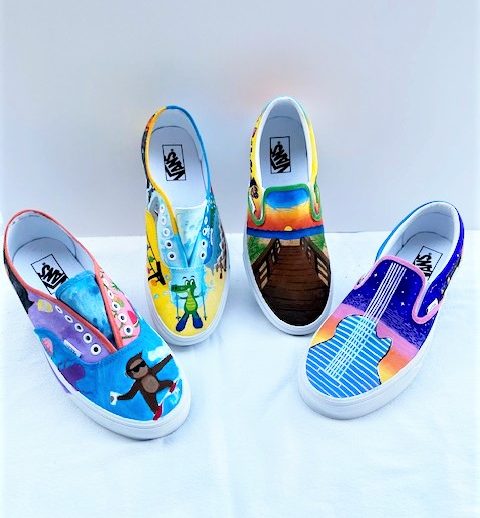 Eight SBHS students from Ms. Shapiro's art class participated in a national art contest put on by the Vans Shoe company in an effort to win $25,000 for their school's art program. 
 Schools nation-wide applied to participate and 500 schools, including SBHS, were selected to decorate a pair of Vans shoes using the themes Off the Wall and Local Flavor. Juniors Dynasty Maxwell, Emily Posadas, Angel Sanders, and senior Alejandro Delacruz painted a beautiful beach sunset and the Hardrock Hotel for the Local Flavor theme. Seniors Emma Rogers and Reyad Mammadov and sophomores Nicole Newmeyer and Galileah Harmon made up the team for Off the Wall and submitted a pair featuring a very vibrant color scheme with a monkey and an alligator riding the waves in our famed Southern Florida shores.  
The shoes almost didn't make it into the contest due to COVID-19. Maxwell and Posadas took the shoes on the last day of school just in case. Off the Wall was done before lockdown and all that was left was Local Flavor. For as long as they could, the two SBHS juniors worked on Local Flavor from home, until South Florida was under complete lockdown.
"Eventually as quarantine was put into effect, I was the only one working on the shoes," said Maxwell. "At some point, it became really overwhelming because of the stresses of online school as well as keeping up with the contest."
Shapiro went to pick up the shoes from Dynasty's home during the quarantine. Once the shoes were picked up, Shapiro took a picture and submitted them online to the Vans Custom Culture competition website. The shoe company's contest began in January. All schools were able to apply from January 6th – 31st. The 500 schools were selected from February 3rd – 7th and were initially due Apr. 6 but the competition was extended to Apr. 27. 
Although they didn't make it the finals, Ms. Shapiro couldn't be prouder.
"All of the students did an amazing job and were so dedicated to working on the shoes and bringing their vision to life, it was very rewarding to watch them work together," she said.
About the Writer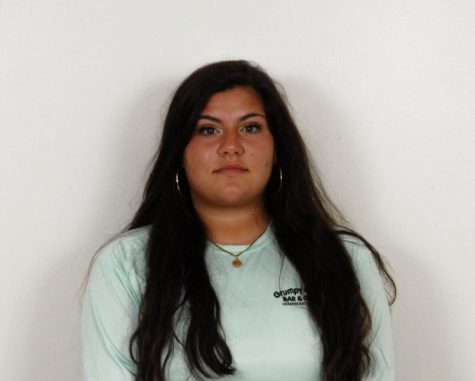 Jasmine Hadous, Editor
Jasmine Hadous is a sixteen-year-old junior who recently transferred to SBHS from Western High in Davie, Florida. She attended her old school for just...