Thanksgiving Dinners Amidst the COVID-19 Pandemic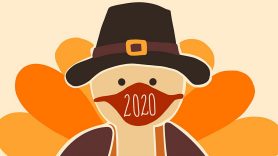 1 (vegetarian) turkey, several servings of mashed potatoes, loads of rolls, a huge green bean casserole, and a wide variety of pies for dessert. That's what Allison Krasick's family consumes on a regular Thanksgiving, but not this year. According to Pew Research Center, 62% of Americans say they will be spending Thanksgiving with family members of 10 or more in attendance for the festive meal. More than a quarter, 27%, expect to be enjoying turkey and pumpkin pie with 20 or more family members. The Krasick family is not, while the Kanter family is.
Allison Krasick, a freshman at South Broward High School, will usually gather with nearly 20 family members to celebrate the holiday. Amidst the pandemic, with the thought that a large Thanksgiving dinner is high risk, her plans have changed, and now she's only enjoying the day with her dad, mom, and sister.
"Thanksgiving is a holiday where people come together, especially family, so I think it could be potentially high risk," said Krasick.
Allison and her immediate family plan to have a small dinner, possibly fitting a video call in with friends and family other than her parents and sister. However, her family still intends to fully celebrate the holiday and cook a semi-large dinner.
"I'm really going to miss seeing all my family and friends this year; this is usually a holiday where we all get to see each other no matter what, guess not this year," said Krasick.
Ava Kanter, a freshman at Fort Lauderdale High School, has different plans. While she normally has nearly 50 people over for dinner, she is now having around 15-20. Kanter and her family intend to take serious precautions to ensure all attending are safe. 
"Everyone will keep a distance except for the people in the same household. No touching, hugging, or sharing," said Kanter.
Everyone will be outside social distancing, and wearing masks until the time to eat comes around. It's a big controversy whether or not it's considered high risk to gather for a dinner, but Kanter doesn't think it's much of an issue.
"Everything is a risk considering the situation we're in, but no one in my family goes anywhere so I don't think there's much of a risk." said Kanter.