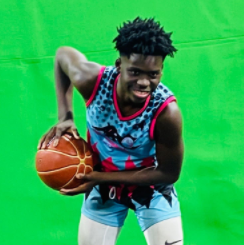 Jade Card plays two sports: basketball and football while trying to balance being a student-athlete.
"I may be tired but my passion for both sports will never die," said Card.
When he was little, his idol was the iconic point guard for the Golden State Warriors, Stephen Curry.
"I wanted to meet Stephen Curry because his shot is consistent and he has muscle memory," he said.
As a seventh-grader at Attucks Middle School, Card led his team to the county championship. Although they fell short, Card loved the roar of the crowd.
"I do see myself winning in a large crowd," he said, "It gets me pumped up and I did it before."
He manages to balance school work and school as well as both sports.
"I manage two sports at the same time by playing football season and basketball season while basketball is year-round," said Card.
Although one may find that playing two sports and having practice every day can be tiring, Card disagrees.
"It doesn't get tiring because I'm used to the conditions, my body recovers fast from injuries and conditions," he said.
Card plans on playing sports throughout college.
"I have not thought about what college/university I wanted to go to but I am only an 8th grader," he said.
Card has made a backup plan in case sports don't work out for him.
"If sports does not work out I'll be an agent for athletes because I know a lot of people that well known," said Card.
The six-foot-two eighth-grader has a lot going for himself in the classroom, on the court, and on the field. Card will continue to grow like his height and future.