The Voices of Essential Workers
The vaccine for the infamous Covid-19 virus is finally out, exciting right, but the people who should be receiving it first hand are not. Healthcare workers are the crowned heroes in this difficult time but behind them were essential workers. 
Martine Francois is infuriated that she and her co-workers won't be apart of the first batch of the vaccine. Francois has been a baker for the grocery store Publix for 20 years now. 
"Publix did not take the precautions they should've for their employees." Francois expressed when asked about how did her job keep their employees safe. Francois works behind a display so she is necessarily at least 6 feet away from customers unless the customer is disabled or hard of hearing.
"I am kind of safe in the bakery, not too close to customers but I worry most for the front clerks," Francois said with a look of pity in her eyes. Front clerks at Publix are known as the baggers and cart cleaners. 
It's very evident why Francois would worry for the front clerks considering customers get the closest to them. Francois believes that out of the whole store, front clerks have the highest chance of catching Covid-19. 
When Francois first heard of the vaccine she was thrilled and she messaged all of her friends to let them know about it so they would seek it out. Francois caught Covid-19 in summer 2020 and says her experience with it was horrendous.
"I felt like my chest was going to go inside my body." Francois also said the virus felt like an out-of-body experience. She was dead for days.
"We [essential workers] need the vaccine too, we help people too and risk giving the virus to our loved ones." Francois expressed with great frustration. Francois was not the only one who had a strong open on the topic but her coworker, Marlene Joachin too had many things to say.
23-year-old Marlene Joachin has been working as a deli clerk for Publix for 5 years and is not at all happy with how essential workers are being treated in these hard times.
"I personally would not take the vaccine due to a lot of personal reasons but if it truly works and helps people in this tough time then I most definitely recommend people taking it."
Joachin says she wouldn't take the vaccine because of superstitions but it is not at all fair that essential workers are being left out on something that could be potentially good.
"My co-workers work very hard to ensure that customers leave with their necessary supplies and food needed. With Covid-19, demands have been very high so that means a store packed with possibly over 50 customers who may or may not know they're carrying a virus." said Joachin
Joachin says that she herself has had a run-in with the virus and she caught it from her job.
"Publix sends out possibly 5 alerts every 2 weeks saying that workers from the store have the virus and will be quarantined. It was no surprise to me when I tested positive for the virus." said Joachin
When asked if she could've possibly gotten it from somewhere else Joachin explains that her normal routine is work then home. She avoids going out since her elderly uncle lives with her.
"Getting Covid was the absolute worse and I don't have any health issues so imagine how it is for the people who do." said Joachin
Joachin says she knows a lot of essential workers who work very hard in Covid high places and has been paid dust.
"Medical workers [doctors, nurses, and ect] are very important, but people seem to forget that there are workers getting them their everyday necessary supplies." said Joachin
"Essential workers not being able to get the vaccine is an absolute kick in the face." Joachin expresses with a look of annoyance on her face.
Although she chooses to opt-out of the vaccine she is outraged that her coworkers will not have access to it.
It's safe to say that essential workers are not at all pleased with being left out of the vaccine.
About the Writer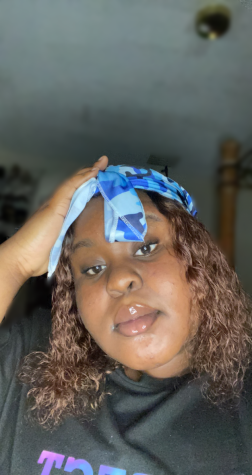 Renea Charise Pascal,
Renea Charise Pascal is a junior at South Broward High School. Her family is from Haiti, but she was born and raised in Florida. She chose journalism because...