Mindfulness at BCPS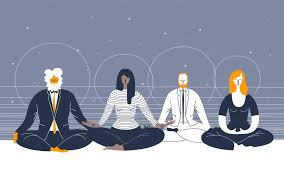 Every Saturday morning without fail, Marcela Franco, gets up at 6 a.m to roll out her yoga mat and chants three ooms. For the past three months, she has been doing this same routine because she says it centers her mind. 
"I'm under a lot of pressure at work," said the 42-year-old mother of five. "Doing yoga helps calm me."
Staying calm. Being present. It's all about being mindful, not only for adults but children too. The BCPS made it an official apart of the curriculum.
Freshman, Frida Dajes, is one of many students that take the curriculum mindfulness for SBHS. She enjoys being able to participate in these type of curriculums because she gets to be more organized.
"Ever since I started doing mindfulness, i've noticed my time is not being that rushed and I feel like I have more time on my hands than ever." said Dajes. "I've noticed that I have been pay a lot more attention to things and not getting so bored easily."
BCPS introduced mindfulness at the beginning of the online school year. Broward County is having the students take this class by having them do certain types of writing assignments, showing motivational videos, presenting affirmations, and doing yoga.
Ms. Itzokowitz, South Broward's 12th grade vice principle, does the mindfulness to help students pay attention in the present moment and become aware of one's thoughts, emotions, bodily sensations, and the surrounding environment. Mindfulness promotes well-being, resiliency, agency, and the enhancement of performance. 
"As a registered yoga instructor, I am so happy to finally have this opportunity to share my knowledge of mindfulness, having a gratitude practice, yoga, and holistic wellness and how it can help make you a healthier and happier person." said Itzokowiz.