How Venezuelans Students Are Struggling With Online Schooling
As the dawn breaks on a school day in the US, students meet in Teams, follow Nearpod lessons and upload assignments in Canvas. It's a school day 14- year-old Geslie Range can only dream of.
A freshman at the private school Jesus Anibal Alfonzo in (ciudad) in Venezuela, she is doing all of her schooling through the text app WhatsApp. There are no video calls. However, she has the chance to write her attendance between 7:00 a.m through 10:00 am and sometimes 11. The chat is also closed on weekends and holidays.
"Online school is terrible because the work is not understandable.The teachers do not explain the work in any way, they only send pdf through WhatsApps," said Range.
She gets her activities in a WhatApps group that is sent by a guide professor. She gets three weeks to complete ten assignments. She gets one assignment for each class. Then, she has to turn in her notebook in school on the due date.
"I feel like I am not learning anything, thanks to my teachers. The small amount of knowledge that I have acquired is because of the effort that I put in," said Range.
The government does not provide any phones, wifi or computers to the students. The venezuelan government does not invest in young student's education but they take it for their own use. According to a survey to a Venezuelan Observatory of public services, only 34% of households have access to the internet. And another 40% have issues with the internet.
 "I have to find a solution when I need something for school. But luckily I have a dad that lives in a foreign country and is able to provide me with school materials such as phone, and wifi," said Range.
However, not all people are lucky. Some Venezuelans students are not able to afford wifi and have to find ways to borrow a phone in order to get an education.
"I feel like education shouldn't be a luxury, it should be a necessary thing", said Range. 
Range is not the only one with these challenges. Gerardo Paredes is a 17- year-old senior that studies in a private school Yunaira Manzono Venezuela.
He said that his activities are in a pdf format, with questions to answer. Some activities have added examples that the professor has assigned. His daily routine is to check the Edmodo application in which he turns  and receives assignments from all of his classes. If he has a new file he will read it and then he will wait until his professor can advise him and direct him in whatsApps. He receives an explanation  or a short video for the class of mathematics, physics and chemistry.
"Online school is less demanding than going to school," said Paredes
He doesn't feel like he is losing a year because the school is not as strict as previous years.
"I see that my school and my teachers are trying their best to provide me with a good education," said Paredes.
His professor can advise him and direct him in whatsApps. He receives an explanation  or a short video for the class of mathematics, physics and chemistry.
"I would say that getting work via a phone is nothing compared to being present in class with your classmates and the professor explaining the lesson", said Gerardo.
If he was in need of a phone or wifi, he would find the way to find one. For example, going to a neighbor's house or going to his brother's house to find one. He also knows a classmate that was having difficulty passing the tenth grade.
"People and I  need to figure out ways to get something for my education," said Paredes.
This pandemic even affected one of the students of Andres Eloy, a school of PDVS, the Venezuelan oil company, that only accepts the children of PDVSA workers. Jisbell Artúnez a 16-year-old senior.
Artúnez says that not having a teacher that explains to you and guides you causes a lot of stress. 
"I don't feel like I am losing a year, but it is a bit more complicated than it was in person," said Artúnez.
She receives her assignments  in images such as screenshots, word archive ,and sometimes messages in whatApps. She turns in her assignments in school the day that is due.
"My schedule is from eight a.m. to 12p.m. and then again from two p.m. to four p.m.," said Artúnez.
Her daily school routine includes one to three classes a day. They range from classic subjects like Math, Spanish, Science to pre military and English.
 " I usually get 11 assignments due in two weeks or sometimes I get 22 assigemnts due in two weeks.  However, if I turn in an assignment on holiday I get extra credit.Which are usually two more points" said Artúnez.
"If my classmates do not have a phone or wifi they can't receive the activity, but I know that they can go to the school on  Monday at two p.m. to get the activities that are sent by the professor in each area," said Artúnez.
One major problem is that a lot of people don't have wifi nor a phone. A lot of students have left school because they can't receive their  assignments. Or others have a phone but they don't have wifi and have to use their phone data. If they don't have enough to go to school,  they have to buy more  data and some do not have money for it.
"However I am blessed with data and a phone," said Artúnez.
Almost everyone she knows is doing online school .This is the last year in high school so everyone tries to do what they need to do.
"I also know people that have left the school because they don't have a phone and because they didn't have support to understand the activities and the consequence was to leave school,"said Artúnez.
About the Writer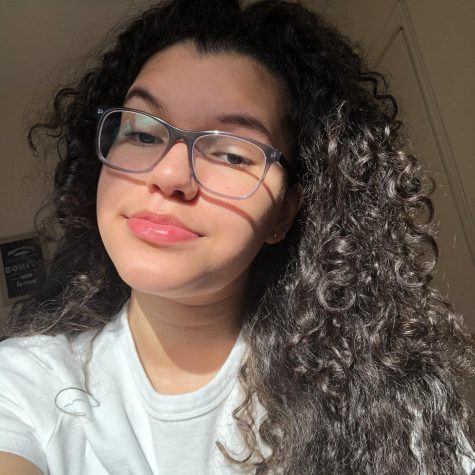 Vanessa Paredes, Contributor
Vanessa Paredes is a SBHS freshman, who took journalism because she thought it sounded interesting, and she wanted to improve her writing skills. She grew...