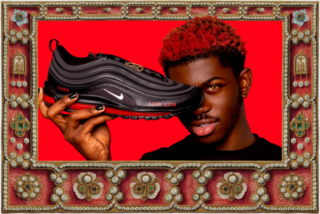 Lil Nas X New Song Montero Shocks the World
Lil Nas X shocked the world after the release of visuals for his newest single "Montero (Call me by your name)". The video was released back on March 26th and not even 24 hours later, the rapper received an overwhelming number of mixed reviews. A large number of viewers did not see eye to eye with the video, criticizing the use of the devil and inappropriate imagery. Many of Lil Nas X's fans raced to social media platforms such as Twitter and Instagram in defense of Lil Nas X, announcing their love for the rapper. One of these fans being high school junior Camryn Hewitt. 
"The visuals were nothing less than the imagery that religious groups try to scare people of the LGBTQIA+ community. Lil Nas X was showing whole he was". 
Hewitt is a proud member of the LGBTQIA+ community and is tired of the negative stigma attached to the community. Hewitt sees more artists following Lil Nas X in the future by releasing more controversial material to get people talking. Hewitt cheered after news broke that the rapper would not listen to the backlash and take down the video. 
"He was very brave, at the end of the day he's an artist but all we can do is respect him for standing his ground and it inspires me to do the same".