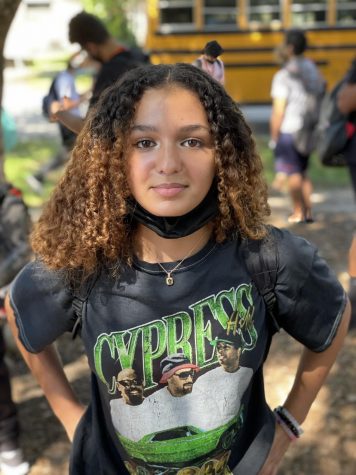 Mia Gonzalez (Friend Of A Friend)
"I don't like school" said Mia Gonzalez. She says she doesn't like the system and that they make us sit for an hour and a half but they don't teach. However she does enjoy getting out of the house and school is a way for her to do that and socialize with friends or other people.
Gonzalez is a freshman at SBHS who was born in Miami and lives in Hollywood. Gonzalez feels very awkward and dislikes that about herself. If she could change anything about herself it would be her nose and shoulders. She says her shoulders are too wide and "don't match her body". She also hates when she does things out of anger or frustration and wishes she could change that.
Gonzalez's biggest fear is losing her bestfriend Zia. Without Zia she thinks life wouldn't be the same and doesn't know how she would survive.
Some of her favorite qualities are her hair and her advice skills. She just wishes she could take her own advice sometimes. She plans to tryout for the track team and is proud of herself for opening up to the idea of stepping out of her comfort zone and trying something new.
If Gonzalez could change one thing about the world it would be for everyone to get what they deserve, whether its happiness because they are good people or to rot in hell because they are bad people. She feels like good people are always the ones getting treated the worst and never get what they truly deserve.
A piece of advice she would like to leave everyone with is "do what makes you happy and stop living for other people. Live for yourself. Once you stop caring what other people think or how they view you, you'll be so much happier" said Mia Gianna Gonzalez.