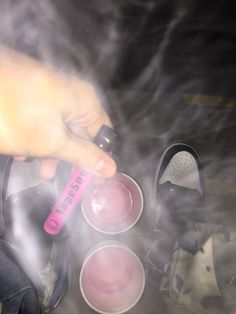 Teens Across America Open Up About Vaping
In 2003, the company Lik introduced the vape pen, an electronic battery charged cigarette. Today, sales of pens and carts have increased 50% from February 2020 and flavored e-cigarettes have increased 64%.  Weed has become legal, either medically or recreationally in 31 states. The result has been an  explosion of over 3.8% of the planet's population smoking weed.
Although it's illegal for teens to vape/smoke weed in these states, vape pens, carts and weed are easy for teens to get. Now, across the nation and Canada, schools are experiencing 20% of high schoolers and 5% of middle schoolers vaping.
Teen like 15-year-old Layla Camarena, who lives in Los Angeles owns a vape pen and uses it frequently. Camarena feels as if she is fine and is not addicted to any nicotine based drugs.
"One vape a day isn't going to hurt me," Camarena said. 
She feels like she has control over her drug use and that it doesn't root back to any stress or home trauma. 
"I vape because it feels good," said Camarena. "I just do it cause I like the way it makes me feel after inhaling it."  
 Christian Harris, a student that attends JP high in Canada, also enjoys the taste and feeling the electronic drug leaves in his mouth. Harris was introduced to vaping through his friend who came to him one day and pulled out his vape and told him to try it. Not knowing what it was, Harris declined, despite his friend pressuring him.  
"He kept asking and I eventually gave in," said Harris. Harris vapes at least once a day. "It helps me destress," said Harris. When Harris vapes he feels happier and his mood just brightens.
"I don't think I'm an addict," Harris states. He feels as if he can stop anytime he feels so. 
Daggie Habtu is a student that attends JP high school in Canada and vapes too. 
"A lot of people here vape actually, it's pretty normal for most students," Habtu says. 
Habtu got into vaping through one of her close friends. Having been using the drug for over two months now, Habtu does not regret starting or using it. 
"Vaping is my way of coping with stressful situations, "she said. Habtu feels that she can relax more after using the drug. 
However, Habtu does not feel like she is addicted to the drug. Habtu is very active and plays basketball and numerous other sports, and is currently trying out for the cheerleading team. 
Habtu, on a regular day, usually wakes up, does her morning routine and then takes the bus to school. At the end of the day, she and her friend will walk to the park and vape. 
 "I don't need it, I've gone weeks without it," she said.
 On the other hand, there are teens who view vaping as a really harmful substance that no teenager or kid should be using, like sixteen year-old Joelle Perez. 
Perez feels like teens and kids who vape don't fully understand what they're doing to themselves when they vape. 
"We as teenagers don't really read over warning labels and harmful side effects," said Perez. 
She also thinks people her age are an easy target for vaping companies to profit off of.
 "I remember when people were going around saying that vaping is better than using cigarettes," said Perez.
Teens who were already smoking shifted towards e-drugs thinking it was a safer option to use. They then told their friends about it and got more and more people vaping. 
"Peer-pressure is definitely normalized today in the world," Perez said. 
Some teens are being bullied or pressured by their friends or peers and feel as if they have something to prove and give into it. They then can get addicted after that one hit that they took. 
Although a leading cause of teen-vaping is peer-pressure, lots of teens get into vaping from problems at home and just stress overall.  
"I feel like a lot of teens have problems that they have to deal with, and they feel as if they can't get help and the only way to deal with it is turning to that e-cigarette, but it isn't," said Perez
Perez thinks that there are better ways to deal with stress like talking to a trusted adult or friend. 
"Trust me there are better ways to deal with stress you have," she said.