Black Student Union: A Refreshed Vision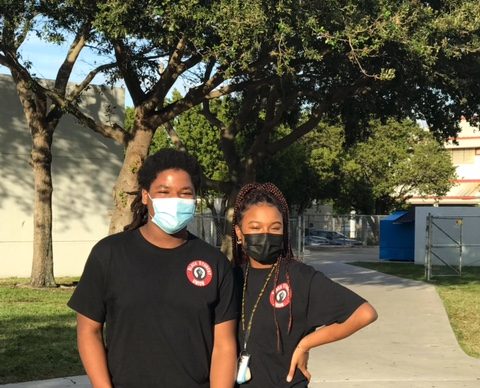 A new name can be a game changer. People do it to take on a new identity. Businesses do it when they change hands. At SBHS, the club formerly known as Ebony Club has decided to reshape itself with a new name: Black Student Union (BSU).
"The black student union is dedicated to the elevation and education of our fellow black youth and allies," said Sacha Robertson, co-president.
Their mission is to bring unity to Black students at South Broward and spread appreciation for Black culture and accomplishments across campus. Students in the club ,like SBHS sophomore Nyah Paise, joined for many reasons, but the main one is to feel closer as a community.
"I wanted to have more of a bond, because you know, there isn't much of a safe space as a person of color and I felt this was a great way to start," said Paise.
It's her first year in the club and she decided to step into the role of historian.
" I wanted to document what we were going to do and the difference we are working to make," said Paise.
Many members feel it's like a second home.
"There was this sense of understanding and shared identity," said Lilian Beltran, a junior who ended up running for co-vice president of BSU.
When the club changed its name, it had been during quarantine when everyone was at home. Due to these conditions the club couldn't really do as much as they wanted to do. With everything going on, it was harder to bring people together. Now that they're on campus, things are different.
"Being face to face makes a total difference because then you get the full experience of what it's like to be in the club," said member, Arielle Sutton. She also says that it promotes the club and clarifies what the club actually is.
One of the ways the club is spreading the word is through events like movie night. In January they will show, The Hate You Give, where the issue of police brutality is shed light on, provides a learning experience for students at SBHS to put themselves in the shoes of the African Americans in this country.
"It introduces students to cinema based on black experience," said Joseluis Polanco, a member of BSU.
But the big push will happen in February, Black History Month. They plan to have a parade, a rap battle in the courtyard, a presentation on Historically Black colleges and more. But other events during Black History Month are in motion to instill pride in the student body and staff at South Broward.
"I hope we have a whole bunch of memories, so many trips, raise a good amount of funding and just become heard. I hope everybody in the school participates and gets to know who we are." said Paise.
BSU meets every other Monday in room #757, Ms. Rolle's room. It is open to students of all walks of life and of any race to come and speak on racial equality issues at our school and propose solutions on how to bring students of all backgrounds together.
Creating a club where Black culture is appreciated, African Americans are recognized, and reminding them of their worth and the beauty of heritage is key.
"This club will be extremely beneficial and I think a lot of students will know their worth," said Beltran.