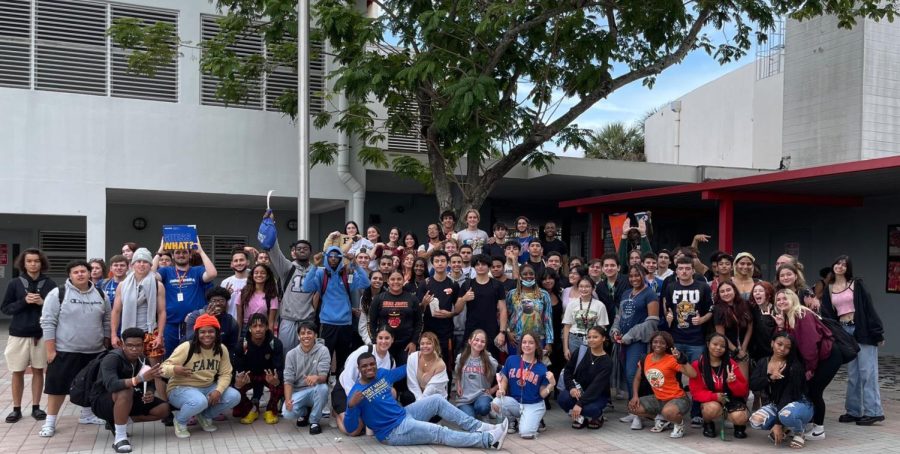 Decisions, Decisions: SBHS seniors ponder their next move after graduation
Every morning the intercom crackles to life and South Broward High School Principal Patricia Brown reads the announcements. An array of lists from clubs and activities occurring to shout-outs of influential quotes fill the morning air. A special list of names roll off her tongue as she announces: 
Jonathan Hardaway, Fort Valley State University. Ilana Szarf, San Diego State University. Aidan Stoyer, University of Florida. Isabella Cordero, Broward College. Gabija Bubelis, University of Miami. Kenneth Marin, United States Coast Guard. 
These students are just some of the names of SBHS Seniors who have decided what their future plans will be after graduation. 
With the May 1st deadline of Decision Day approaching quickly, it's crucial for seniors to make a decision on their future plans. This leaves many seniors stressed about which choice will be in their best interest. The process of choosing may feel dreadful, but it's important to know that attending college isn't the only viable option.
SBHS Senior Isabella Cordero felt back and forth about continuing her studies at community college or taking a gap year. 
"Decision Day is something we've been preparing for all of the high school and even though that's the case, it never felt like it would come," said Cordero. "Now that it's here, it's hard to believe and it's scary."
With the growing selection of enlisting in the military, joining the workforce, taking a gap year, or attending college/university, it does not make the decision any easier for the class of 2022.
"I ended up choosing Broward College since I'm still deciding my major. At the very least I'll have two years to keep me prepared for when something does occur to me that way I get the basics out of the way instead of wasting time," said Cordero.
Gabija Bubelis was originally deciding between the private school University of Miami or the public school University of Florida. Her choices have led her to pick UM as the school's prestige provides her opportunities not provided elsewhere. 
"I think that a private school would benefit my education more through things like having smaller classes and better-funded programs," said Bubelis.
Aidan Stoyer; however, has decided to continue his education in a less traditional format. Although Stoyer will be attending the University of Florida, his heart belongs to Hawaii. The senior hopes to travel to the island as his schedule permits as he previously longed to attend the University of Hawaii at Manoa. This dream was not possible due to the tuition costs. Despite this, another opportunity presented itself. 
Through the Pathway to Campus Enrollment or PaCe program, Stoyer will learn virtually for his first two semesters as a gator. After he meets the requirements for PaCe, Stoyer will be able to integrate himself into physical classes on campus. 
"One big thing is I want to travel and do a lot of that, but I can't take a gap year or anything because then my Bright Futures and scholarships all go away," said Stoyer. "With PaCE it allows me the opportunity to travel and experience a lot more stuff since it's all online."
Student-athlete Jonathan Hardaway's plans take him outside of the Sunshine State. This senior applied to schools as far away as Daemen College in New York to Fort Valley State University in Georgia, and everywhere in between. Many of the schools accepted him and provided financial aid, but his heart led him to commit to Fort Valley State University.
Full of spirit, Hardaway is a proud wildcat and excited to join the school's volleyball team this upcoming fall. He was recruited with athletic and academic scholarships covering part of his tuition. The excitement of acceptances doesn't come without the loss of rejections. The coach at Fort Valley resonated with Hardaway's story and gave him another place to call home.
"I haven't reached 6 feet tall and they understood that. I got denied by a coach because I'm not tall enough even though I'm a good player," said Hardaway.
While Hardaway has proved himself to be a worthy team captain it doesn't stop him from setting himself to a higher standard, leaving him unsatisfied, thus, giving him a strong resolve to improve.
"Maybe in junior year I'll have a better thought process. I just don't think I'm there [at a professional level] yet after college. Maybe a bit more training and I have a lot to grow on," he said.
Kenneth Marin's path has led him to enlist in the United States Coast Guard. After hearing stories from his uncle, Marin saw no other option than to follow in his footsteps. He began intensely researching the Coast Guard and the history behind the military branch. 
"I've always admired my uncle as he served in the Coast Guard for twenty years protecting our country," said Marin. "His stories became my inspiration." 
Although Marin researched everything there is to know about the United States Coast Guard, history can't dictate how the rush of emotions may feel for an individual making this decision.
"I feel so ecstatic, I just can't wait until the start of this next chapter in my life," said Marin.