The Life Of A Lunch Employee
Hang on for a minute...we're trying to find some more stories you might like.
      For one day try and wear the shoes of a food nutrient service employee. Try and imagine everyday preparing and serving food for students. You probably don't know this but the life of a nutrient service employee is more stressful than it sounds and looks. Here at South Broward High School they don't like to be called lunch lady or lunch employee, they prefer the term "food nutrient service employee." Calling them lunch lady is very offensive to the workers. This is what the life of a food nutrient employee is really about:
      This is our food nutrition manager Adriana Pauziano, she has had 25 years of experience as a food nutrient employee. She has helped me understand what really goes on behind the closed doors of the kitchen. Here at the South Broward High School cafeteria there are barely any accidents. Workers practice safety everyday, to avoid accidents. There are also signs in the kitchen to prevent accidents. Now you may think that at the end of the day there are a-lot of leftover food to be thrown out, there's not. There is almost no waste and minimum leftovers to be thrown out.
         In fact, the food that you are eating is NOT expired. At the back of the kitchen in the freezer, there are boxes of food labeled. They are labeled with dates to let the workers know what is to be thrown out and what is good to cook. So the servers are not to blame when you don't get the food you want, they have guidelines to follow that the government provides; the food that needs to be served to the students at school. 
       With all the stress of preparing, cooking, and serving nutritious food, the last thing they want is attitude given by students. Yes talking about us her. Students sometimes give attitude to our workers when they have been working hard to prepare and serve our food. "But its not up to us" said Adriana Pauziano. There are rules said by the government of what is to be served. So instead of complaining just say thank you, because these workers work so hard to prepare the food you eat in the morning and afternoon. Just know not everything is easy and can be your way. "The job is stressful yes but at the end of the day, we are happy and we say we did it" Adriana Pouziano said.
About the Writer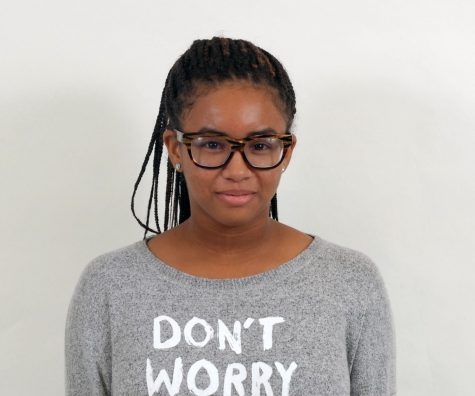 Kayah Garbutt, Contributer
Kayah is an intelligent, extremely creative, ninth grade student. She loves music, and enjoys studying world history. Kayah plans on attending college and aspires to become a CSI detective. She loves reading comics and could listen to pop music all day long! Some of her favorite musicians are Sia, Michael Jackson, and Justin Timberlake. Kayah is an absolute pro at playing cards games. Looking for someone to play crazy eights with? She's your girl!