Love in a Ukrainian War Zone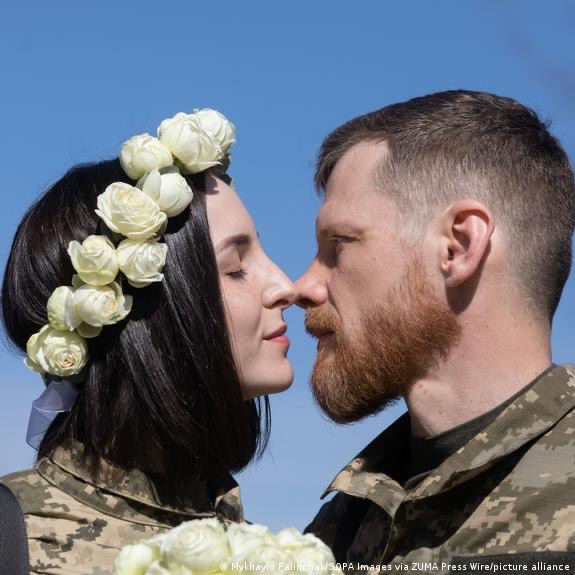 In 2021, Anna Golubenko and Eduard Varchenko had called the quits on their relationship. 
War usually tears things apart, but for Anna, a psychiatrist at a military hospital, and Eduard, a Ukrainian soldier, it brought them together.
 "We had the opportunity to get to know each other, exchanged gifts," said Golubenko.
Anna and Eduard are one of the 198,300 couples who got married in Ukraine during the period from March to December 2022. According to the Ukranian Ministry of Justice, this is 7,000 more than the same period in 2021. Psychologists explain the increase in the number of marriages concluded during hostilities, in particular, by people's need for stability and security. 
"When there are large-scale changes in the country, in society, there is a lot of uncertainty.  It is natural that a person tries to secure his life as much as possible, to create a new routine that can be relied on," said psychologist, Oleksiy Udovenko.
Another couple that got married during the war is Evgeny Stipanyuk and Ukrainian defender, sniper, with the call sign "Ukrainian Joan of Arc," Evgenia Emerald.
"Today I officially became the wife of a military man. This is a special day- a lot of holidays. I want to congratulate all the defenders," said Emerald. "Glory to the heroes! I also congratulate my beloved, because today is his birthday. Now he will definitely never forget the date of his wedding. Exactly. Modestly, quickly, among the military." 
Emerald mentions that the wedding was played right on the front line in Kharkiv while the General Armed Forces of Ukraine congratulated her and her lover.
However, Emerald recently returned to Kyiv from the war zone, the reason for this was her pregnancy. 
"When I found out that I was pregnant, I burst into tears," said Emerald. "The first two months of pregnancy, I didn't tell anyone at all – not my husband, not the commanders. I continued to participate in the war."