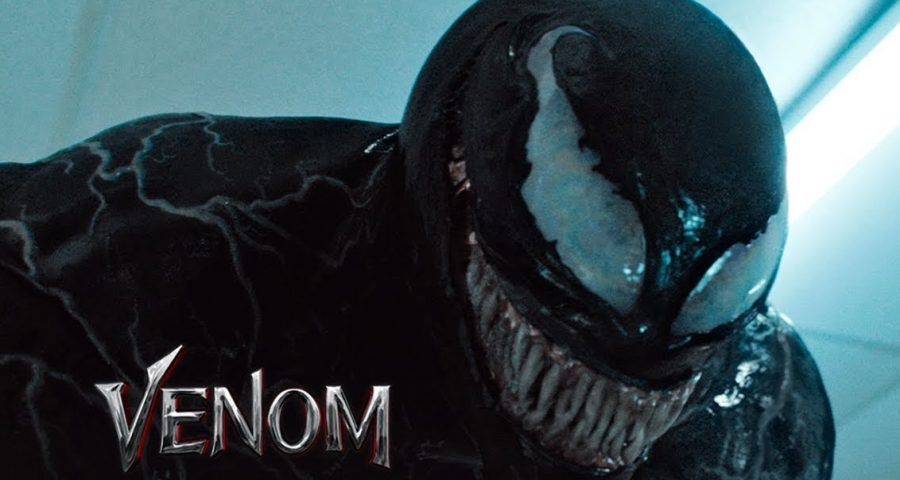 Venom: Movie Review
"Eyes, Lungs, Pancreas. So many snacks so little time."
 What movie is this from you might ask. Most likely your answer wouldn't be the latest Marvel superhero movie.  However "Venom" takes an anti-hero approach to the widely popular character Venom. The movie blends action with comedy while also pushing it's PG-13 rating to its limit.
In the comics the symbiote part of Venom first appeared in Marvel comics in 1984 but didn't become the character we now know till 1988. Venom is most commonly known as one of Spider-Man's deadliest villains.  He has a wide arrange of powers which include super strength, shape shifting, and regenerative powers.
"Venom" which stars the phenomenal Tom Hardy ("Inception", "Mad Max", and "The Dark Knight Rises") who returns to the superhero world but this time as the anti-hero Venom.  Hardy not only takes on the role as investigative journalist Eddie Brock but he also voices the alien symbiote Venom. Under the direction of Ruben Fleischer ("Zombieland" and "Gangster Squad") "Venom" presents a new take on the iconic character that may interest new or casual fans but has drawn harsh criticism from hardcore Venom fans.  
The movie tries hard to balance the surprisingly comical relationship between Brock and Venom while also testing the boundaries of it's PG-13 rating with large amounts of violence and carnage but which inexplicably lacks blood.  'Why are they worrying so much about what the movie is rated' you may ask.
The reasoning behind this is that "Venom" is not part of Marvel's official cinematic universe (MCU) and the hope is that if the movie is seen as a success it may be added into Marvel's collective movie universe.
A large deterrent for many people is that the venom character in "Venom" is drastically different from the comic book character in not only his personality but also his origin.  The reason behind the origin change is due to the movie being secluded from the MCU which means that Venom can't be tied to Spider-Man as he is in the comics. This also leads to Venom's suit not having the spider on his chest which is replaced by white veins across his body.  
Another disappointment was the ending fight scene between Venom and the rival symbiote Riot.  It is extremely hard to differentiate the two symbiotes for the majority of their clash thanks to their similar appearances.  After a short battle the conflict ends abruptly and is somewhat anticlimactic.
Overall "Venom" was an entertaining movie with the main highlight being the humor between Venom and Eddie Brock.  If you go into the movie expecting it to religiously follow the comics you will be disappointed. However if you enter the theater with an open mind to the character with moderate expectations you will  be pleasantly surprised and will enjoy the action/comedic superhero movie.