Anthony Montanez
Early in the morning, At 5:30 a.m. Anthony Montanez's alarm clock jolts him out of his sleep. He rolls out of bed, puts on his running shoes and hits the pavement for a one mile run. After taking a swift shower and gathering his belongings Montanez gets dropped off at South Broward High School were he will spend the next seven hours increasing his academic skills.  When the final bell rings he then transitions out of his school attire into his wrestling gear. For a total of four hours, Montanez will rigorously train wrestling either at school or outside of it. As if this wasn't enough, Montanez caps off his packed day by pushing himself on another one mile run at night. This is an average day for Anthony Montanez.
Anthony Montanez is a senior at South Broward High School and team captain of the wrestling team.
Montanez started wrestling when he first joined the team in his freshman year.  His inspiration to start wrestling was his father and professional wrestling.
"My dad did it back when he was in high school, but he quit because of my mom", said Montanez.  "I also watched WWE and thought I can do that. And here we are, I'm still doing it."
During his sophomore year the team's captains graduated Anthony not only earned a varsity spot but he also stepped up as one of the leaders for the team.   
Before Montanez started wrestling he had always been involved in sports one way or another.  His athletic activity first began with him playing basketball with his friends on a constant basis.  On top of that he also joined the SBHS swim team his freshman-junior years while also juggling the wrestling pre-season practices.
Wrestling season lasts from November to March, with most wrestlers participating in at least one tournament each week where they will wrestle multiple times against numerous opponents.  
Every time they wrestle, each wrestler needs to weigh in to see at which weight class they will wrestle.  Most wrestlers go through a weight cut to temporarily go down to a smaller weight class so that they can have a size advantage.  They do this by staying on a strict diet and by cutting down on their water weight days before weigh-ins.
Should Montanez miss weight there would not only be serious repercussions for himself, but also for the whole team.  
"I missed weight once and coach almost killed me," said Montanez.  "Thank God my team won because if not I would've had to do 1,000 push-ups."
During the off season Montanez wrestled at 120 lbs and 126 lbs which is not a difficult weight cut at all.  However, during the actual season he will cut all the way down to 113 lbs. This is a difficult task for him which means that if Montanez wants to feel 100 percent for the match he needs to start his weight cut weeks before.
"To cut weight I have to start by about two weeks before the meet," said Montanez.  "I have to meal plan everyday which means i'll be eating every two hours."
Weight cutting isn't the only hardship Montanez has to endure.  There is always the threat of injuries. Fortunately, Montanez has never suffered from anything major.
"Thank God, knock on wood no serious injuries. A lot of skin diseases though," said Montanez.
The main culprits are staph and ringworm which both run rampant in the wrestling community.  This has caused Montanez to occasionally have to sit out during practice.
Last year Montanez qualified for state championships which is an impressive accomplishment for his first year as a full time varsity wrestler.  Even though he did not place, the loss lit a fire under him to work harder to become first in the state at 113 lbs.
"My loss at states honestly shed the light that not everything is going to go your way in a close match," said Montanez.  " That loss by one point made me realize that I needed to be more aggressive."
Montanez has completely dedicated his time to improving his proficiency at this combat sport.
"I need to win it myself by straight dominating my opponent" said Montanez.
This mentality has led to Montanez not only paying to go to extra practices during the off season, but it has also driven him to even go as far as going to a separate practice immediately after school practice ends.Work ethic is what Montanez believes will not only take him to States, but will secure his place at the top of the 113 lbs podium.  Should he accomplish this he will be only the seventh state champ in school history.
After all the sacrifices he has made and continues to make, Montanez will not be denied his dream of being State champion.
"No days off. Season never ends."
About the Writer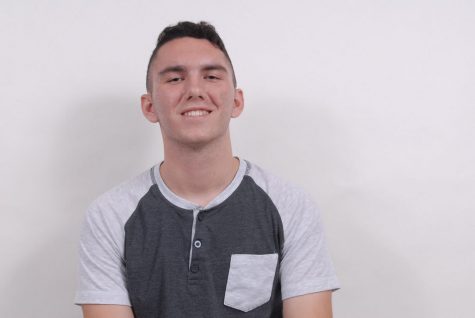 Kai Escobar, Contributor
Kai Escobar is a 17 -year-old senior at South Broward High School whose passions are wrestling and writing. He signed up for journalism due to his interest...