Interact
Hang on for a minute...we're trying to find some more stories you might like.
   Interact is a club involved in many community projects here at South Broward High School. The club is run by Rotary, a "global network with 1.2 million neighbors, friends, leaders, and problem solvers".
  Rotary members see a world where people unite to create lasting change across the world and its community, and that's a simple principle that Interact, sponsored by Mrs. Hixon and Mrs. Hollis, lives by. Rotary is about 110 years old and is always working to better the world and communities- from literacy and peace to water and health projects. Rotary International focuses on projects like promoting peace, fighting diseases, providing clean water, sanitation, and hygiene, to saving mothers and children, to supporting education and growing economies.
      Interact here at South Broward also has a huge impact on our community because they do many service projects, like helping out with the Harvest Drive for families during the holidays. One big project Interact is working on is providing clean water to families in the community, and the money was provided from selling rice Krispies to South Broward students during school.
For students like Emily Martinez, Interact is "An amazing club. We do a bunch of projects that help our community in many different ways like helping out with the harvest drive." And for other students like Mercia Mathew, Interact is "Interact is a club that's active in helping our community and people who are less fortunate, I'm happy to be a part of it."
And for myself, since I am a proud interact member feel as though it's my duty to get involved in our community and help out as much as I possibly can. Mrs. Hixon and Mrs. Hollis are great sponsors who make every project worthwhile and they are just as excited as us to get involved. If you are interested in joining Interact, talk with Mrs. Hixon in the guidance office, we are always looking for new recruits.       
About the Contributor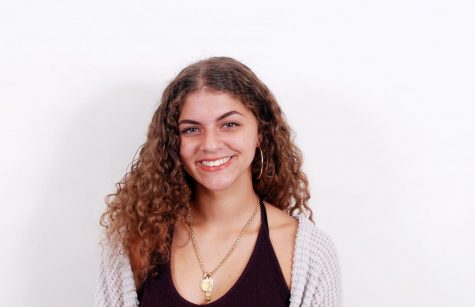 Vanessa Cramer, Contributor
This is Vanessa, she's a senior here at South Broward High School. What interests her about journalism is creativity. She signed up for this class because she realized that she has a voice and wanted to try something new. Her greatest strength academically is reading, her greatest academic weakness is math.
She is someone who looks into fashion, she likes to wear outfits that are cute, but simple. Vanessa is very athletic. She plays flag football, volleyball, soccer, and even swims. Her role model is Princess Diana because she's not afraid to push buttons, she's fearless. She aspires to be a News Anchor when she finishes college at FSU and dreams of working at CNN. She is currently working five days a week at Pollo Tropical. Her favorite movie is "Fast and Furious, Tokyo Drift". In the future, she plans to vacation in either Fiji, Costa Rica, Egypt, and Antarctica.
One of her fears is giving up on herself and others and her hopes and dreams are to further her education and provide for her family. This everything you would want to know about Vanessa, as to what she likes/ dislikes and what are her planes in the future.