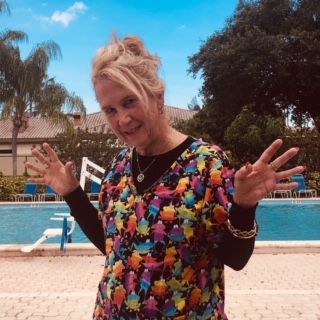 Greta Jurardo
Greta Jurardo is a home health nurse who treats some of the sickest patients in South Florida. They are usually too ill to physically go to the doctor's office, so she goes to them. Her patients are typically people with cancer, debilitating diabetes or the frail and elderly.
Jurardo is also a mother of two and a grandmother of one. She named her two daughters after herself and her sister. Her oldest daughter's name is Greta, so everyone calls her little Greta. Her youngest daughter, Ingrid was named after Jurardo's sister Inga.
Little Greta recently had a baby, giving Jurardo one of proudest titles yet, grandma. She calls her granddaughter the light of her life. Whenever her daughter texts her a picture of her granddaughter, she lights up, showing it off to anyone who will look.
She spreads her love to animals as well, healing the injured and bringing the abandoned to shelters. Right now, her house is brimming with eight cats and a caramel-colored Husky she named Koda. Her most recent humanitarian feat came when she got a call in the middle of the night about a mother cat and her kittens. Jurardo jumped out of bed, raced across town and brought them to the vet, who set the mother cat's broken leg and attended to the kittens. They were all later adopted into loving homes.
"I spend most of my days putting out little fires everywhere," she said, "It's a lot of work, but I wouldn't trade it for the world. This is what I love. I am truly lucky to be where I am."