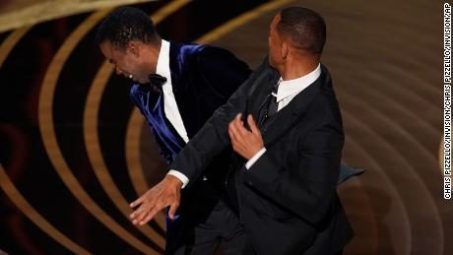 The Slap Heard Around The World
On March 27th, 2022, at the 94th annual Oscars Academy Awards Will Smith slapped Chris Rock. Chris Rock (standup celebrity comedian) made a joke about Jada Smith's bald head.
"Jada, I love you. G.I. Jane 2, can't wait to see it," said Rock.
While the joke seemed lighthearted, Jada Smith appeared annoyed by the joke and her husband, actor, Will Smith laughed at first, after seeing his wife's reaction, he walked up to Rock and slapped him hard across his face. The audience was stunned. Rock quickly composed himself after Smith walked off stage and back to his seat.
Shortly there after, the program resumed and Smith was awarded Best Actor for his role as the father of tennis legends Serena and Venus Williams, in the movie "King Richard". He proceeded to give a lengthy speech thanking everyone for helping him get this Oscar, while apologizing to everyone for the outburst, except Rock.
The day after, while scrolling through Instagram, it came across my feed as a meme. The meme was a clip of Smith laughing at a joke and then pausing as a girl sitting next to him gave him a glare. I jumped to the web and found a video of the now famous slap.
When I watched the video I thought Smith's reaction was unnecessary and kind of brutal. Instead of going up on the stage to publicly embarrass and assault Rock he could've sat down next to Jada and said that she was beautiful in his eyes and it didn't matter what anyone else thought. However, not a lot of people knew why she looked really irritated at the joke. It was later revealed that Jada Smith was suffering from alopecia.
This event highlighted that something is wrong with Will's marriage as well. He felt that he needed to go up there and slap Rock across his face after looking at Jada's reaction, almost as to prove that he really does love her.
Around South Broward, students and Community members had varying reactions to what transpired at the Oscars.