Habitat Loss Due to Everyday Products
Hang on for a minute...we're trying to find some more stories you might like.
You may not think you're destroying the environment by washing your hair – but you are. Or, feeding your cat, or handing out Halloween candy, or getting all made-up for the big date or even baking Christmas cookies with grandma.  But all of these things contain an ingredient that is devastating to the environment: palm oil. 
While you might have never heard of palm oil, it has a large role in our daily lives.  It's an edible oil made out of the fruit from African oil palm trees and is found in 50% of our consumer goods. Wildlife and the environment are now in danger due to the massive production of palm oil.
Although these palm trees are originally from Africa, they now have taken over many parts of South America. It is found in shampoo, candy, pet food, vitamins, beauty products, frozen food and cookies – to just name a few. Palm oil is used as a preservative, and while there are other environmental friendly alternatives, it is the cheapest to make, about $15 per metric ton.
  To give you a better view of how massive this production is, around 300 football fields of forest is cleared every hour to turn into palm plantations. Since palm oil is becoming better known to the average consumer, companies have started to change palm oil's name to make it difficult to find in products. PKO (palm kernel oil), palmitate and PHPKO (Partially hydrogenated palm oil) are a few examples producers are using to trick you in consuming palm oil. 
"So, it's still important to know what is going on ecologically in these areas. The Colombian government says land used to grow oil palms will double to about one million hectares by the year 2020. If unplanned, this expansion could result in a disruption of the ecosystem," said Lain E. Pardo Vargas, a biologist with James Cook University.
This production has impacted us in several ways. It has caused major deforestation and made an impact towards global warming.  Millions of acres in the Borneo and Sumatra rain forests are cut down every year for palm production.
Palm companies burn down the land and peat swamp, and with these fires, wildlife goes with them. With these man made fires, tons of carbon are released into the air every day. One of the biggest uncontrolled fires in Borneo killed a record of 8,000 orangutans at once. Around 25 orangutans die every day, at this rate, in five to seven years it is expected for them to become extinct, gone forever.
Luckily, today there are hundreds of organizations who are fighting for orangutans and the environment. One of these organizations is the Palm Beach Zoo, who is raising awareness and impacting our community by holding education classes about the affects of Palm Oil and invites anyone to come by the zoo. Zoo staff member Nina recommends to go on their website to find helpful tips on how to avoid palm oil products, you can also find "Sustainable Palm Oil Shopping Guide" which is a free app available in the Apple Store and Google Play, that allows you to scan the bar codes of any product to see if it contains palm oil.
She also said in the Orlando area, to check out the Center for Great Apes Sanctuary where rescued orangutans and chimpanzees live peacefully , you can donate on their website, where all proceeds go towards the saving the orangutans.
There is several ways you can help make a difference. Start looking in the ingredient section of products and be cautious of what you use. You can also write to your favorite restaurant or food brand and let them know you care for the environment and your concern will reflect in the products you buy. You can also donate or join any organization who is raising awareness.
"I just hope we won't wake up one day to find out that the orangutan is gone," said Nina.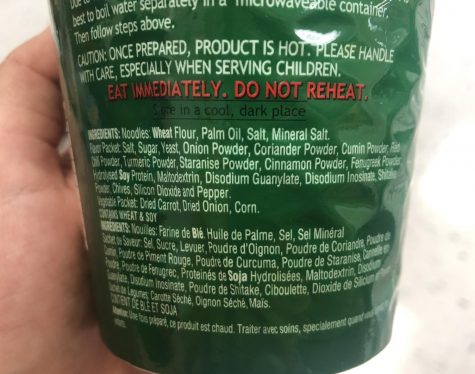 On this ramen noodle cup, palm oil is listed clearly in the ingredients list. Palm oil is a particular vegetable oil that is from a palm fruit, the production of this oil is causing major deforestation and animal habitat loss.