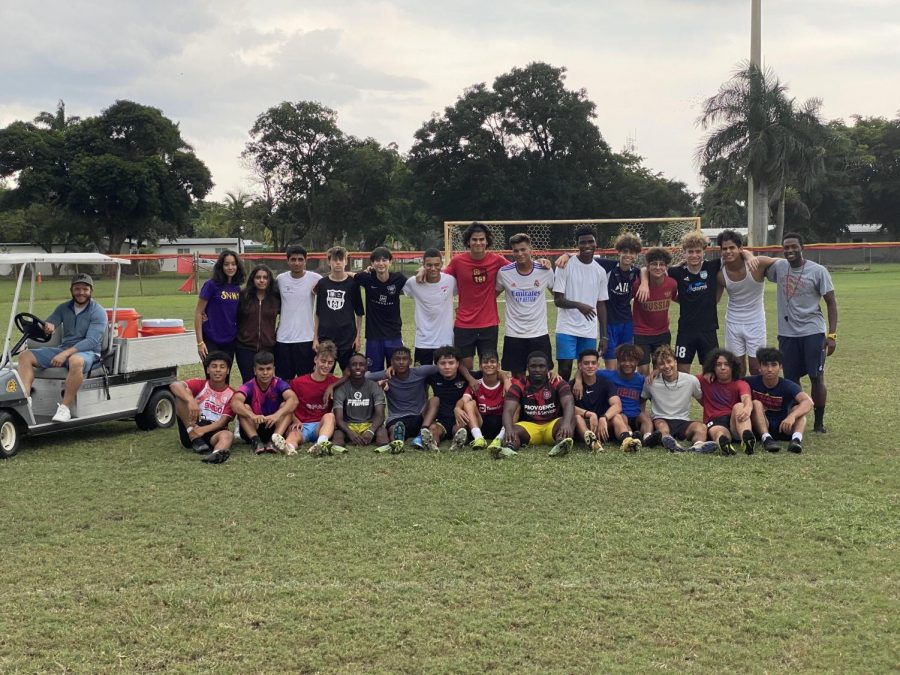 SBHS Boys Soccer Preseason
Once you get the slightest taste of victory, you hunger for it, and this year the SBHS boys soccer team has a raging appetite. Last year, they made it to district finals, and the year before that they made it to state finals. This year, nobody is more hungry than head coach Lionel Brown.
"We lost in the finals a couple of years ago, so we have some unfinished business," said Brown
This may be a little hard as they lost key players, like center mid Nicolas Robles and defender Evan Vargas, but coach Brown says he won't let these losses stray his team off the path of victory. And so he's setting the table with a training regime that includes lifting weights, scrimmages, and heavy drilling. 
"Having played professionally for 10 years, I know how important preseason training is so we go through a rigorous preseason to prepare ourselves ahead of the season," said Brown.
Many on the team, including SBHS senior defender Cristian Rodriguez, are feeling motivated. He says he's been eating right, working out and taking care of his body. But, more than that, it's the relationships that motivate him.
"What motivates me is my friends, family, and knowing there's a prize at the end of the road," he said.
SBHS junior defender Jose Valladares feels the same way.
"The most important thing is that we play with each other as brothers, because that's what we all are," said Valladares. "We're all connected."
But brothers or not the roster is always changing. And the Bulldogs boys soccer has dealt with these losses every year. Brown has compensated for these losses with new players who are nothing short of amazing for the team's synergy.
"We were able to welcome a few players who will be great for our team and program," said Brown.  "I have high expectations for the group this year."
Coach isn't the only one that feels all the preseason workouts are a worthwhile struggle.
"Preseason is extremely difficult because of all of the conditioning Lionel puts us through, but it's worth it," said Valladares.
The teams first game is set for November 9th at their home field against Everglades High School.