Hurricane Ian Looms Over Broward County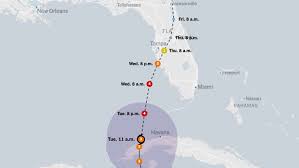 Hurricane Ian, the biggest news event here in South Florida with a straight path heading towards Florida almost covering the whole state; coming in at 200 miles wide with the wind the speed of 100 miles per hour.
Over the last several days, County agencies and their emergency response partners have been testing emergency equipment and preparing infrastructure including clearing roadway debris and lowering water levels of lakes and canals.
The Florida Department of Education works closely with school districts before, during and after natural disasters to ensure they have the resources necessary to resume normal operations as quickly as possible.
The National Weather Service predicts Broward will experience gusty winds along with a large amount of rainfall. The potential exists for flooding and tornado activity, especially in the coastal areas, which are already experiencing higher than normal water levels due to the King Tide.
Heavy rain bands are likely to appear as early as Monday night, September 26th, and early Tuesday morning, September 27th. The storm's closest approach to Broward County is expected to be Wednesday.