Class! Ten Hut!
Ron DeSantis passes bill that allows veterans to teach in public schools.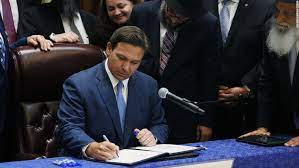 Metal detectors, security guards, and random searches are something you would expect at a jail. With the new bill governor Ron DeSantis signed on June 9th that allows veterans to teach in Florida without a degree, it seems like public schools are becoming more like military or even reform schools.
I understand why DeSantis felt like he needed to address the teacher shortage. According to the Florida Education Association, Florida has suffered through more than 4,300 teacher vacancies last year alone.
 The recruitment initiative may bring veterans and retired first responders to the classroom to fill these spots, but Florida teachers are not happy about the bill. They believe veterans are not fit to be teachers, especially without a degree or any teaching experience. And they're right. Veterans are in no way qualified to be teachers unless they are held to the same expectations as traditional teachers. According to DeSantis, a 2.5 grade point average and 60 college credits would get them accepted into the program. 
Most teachers have much more to offer academically to students, some have master's degrees, not to mention years of experience. Most veterans' education qualifications pale in comparison, yet DeSantis claims they still have skills and talents to pass on to students. What could a former soldier teach students other than how to act like a soldier themselves? 
As a student in a Florida public school, having a former soldier from the Iraq war as a teacher would feel more like I'm being monitored than taught. They will likely have little patience managing hundreds of teenagers a day and are more likely to act like a JROTC sergeant than an English teacher. 
Some may say that the program is beneficial for everyone, giving veterans jobs and helping to stop the teacher shortage, but this isn't the case. If participating veterans stay in the program the full five years, they will be able to get a degree to be a teacher full time. However, most veterans would not make it that long with the daily stressors of the job. Which brings me to the main reason for the teacher shortage: mediocre pay. According to the Education Data Initiative, teachers in Florida have one of the lowest average salaries in America, averaging about $51,000 per year. This, along with lack of respect from students, parents, and society at large, will make them realize they aren't getting the salary they deserve for the work they're doing. Many may decide to drop out of the program before their teaching certificate expires.
If anything, allowing veterans in the classroom will make the teacher shortage worse. When educators see that Florida would rather recruit under qualified veterans than simply pay them sufficiently, they will feel even more disrespected and Florida will experience more vacancies than before.
Teachers in Florida feel underappreciated and overworked so they choose to leave their jobs for one that will offer more benefits. If the purpose of the program is to fill teacher vacancies, surely they could accomplish this simply by paying qualified teachers what they're worth. Florida is a state that does not put enough money into the education system. Better funding in public schools would almost completely solve this teacher shortage, and there would be no reason to lower the standard for teaching.