A Kick Start to the Soccer Season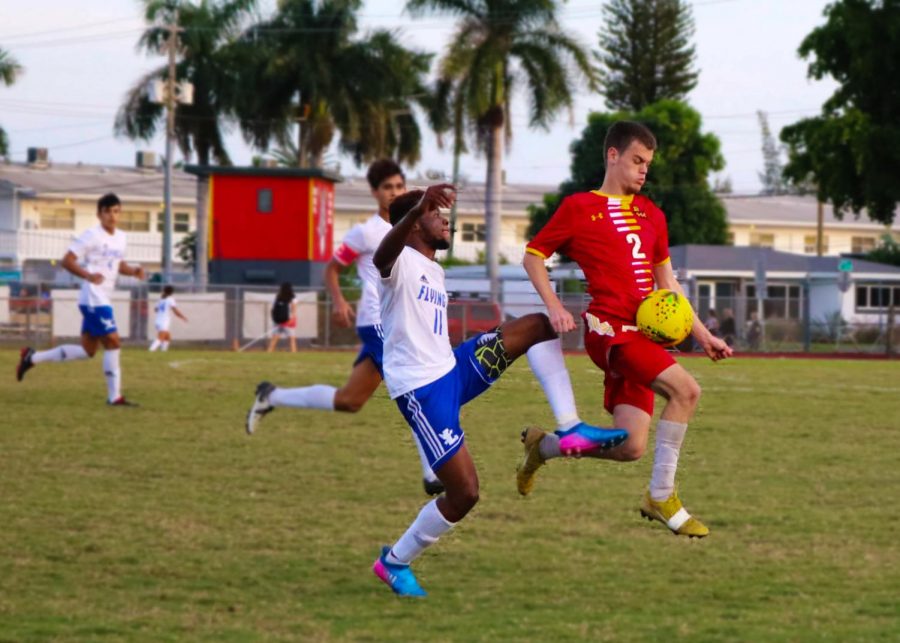 Every day after school, 30 SBHS boys take to the field to run, sweat, kick, and pass, all in preparation for the upcoming soccer season.
The South Broward High School boys' soccer team plans on sweeping the state championship this year. Last year, the boys made it all the way to regionals, but this year that have bigger goals. 
"Whatever it takes," said David Diaz, a junior who plays left-back for the SBHS boys' soccer team.  
Diaz has been on the team since his freshman year. He has seen how much the team has improved and far they've come. He thinks that his team will make it to states this upcoming season. 
"State Champions is the goal, and we're going to achieve that," said Diaz.
For some of the players, the main motivation is the joy of playing soccer. It's something that they enjoy doing in their spare time, although some like senior Daniel Popa, plan on going pro later in life. His main motivation would be his passion for playing. 
"Meeting and playing with new people you've never seen or played with before, is hard to adapt to," said Anthony Martinez, a sophomore who plays left wing.  
This is Martinez's first year playing with the SBHS team since he just recently transferred to the school. It's a fresh start for him, meaning he must work harder to be at the top again. His main motivation for this year are the seniors because he wants them to have a good last season before they leave for college.
"When you reach the top, treat those beneath you with respect in an instant, you can be at the bottom being looked down upon," said Martinez.
This year, they have a solid team with new players. Everybody understands each other making it easier to play on the field.
"As a team, we enjoy messing around with each other during practices to make it more fun," said Martinez. 
According to a few of the players, conditioning is one of the hardest parts of practice, and the team is doing lots of it. The most challenging form of conditioning is the mile run, which is where the players must run a mile in under six minutes.  
Their coach Lionel Brown, who has played soccer for 28 years and plays for Miami FC in the National Premier Soccer League (NPSL), has set up a schedule of challenging games for the season making it tougher on them for the season.  
"Cashing in on all the hard work you put in, in the preseason, the hardest part is coming and in and showing up doing all that serenity to the game so that when it comes time to play the reward is performing well enough to show a result", said Coach Lionel. 
The soccer team also comes with its weak points. "The weakest part of the team would have to be the defense", said Popa. The team had lost a few of their good players, who graduated last year, meaning they will have to put in more effort, and train harder. 
"You get to get to go through the bumps and bruises as you go, so by playoffs, we should already have a good understanding of each other as a group of what we want and what we want to achieve. And by that point, it's going to be more so just about doing it as opposed to learning certain things at that time," said Coach Lionel.
About the Writer
Amber Cazacu, Editor
Amber Cazacu is a 16-year-old junior currently attending South Broward High School. The writing aspect of journalism is what interests her the most. She...