SBHS Wrestling Ups the Ante for State Finals
After a long and arduous season, the SBHS wrestling team competes at the rigorous regional and state tournaments.
They say three is the magic number – it was for SBHS's 2019 wrestling, as three varsity wrestlers made it the state tournament. That's one more than last year. But, the team wraps ups a tough season with fewer making it to regional finals compared to last year.
Whether it's been wrestlers quitting or getting injured, the team has had no shortage of adversity to overcome.  With the roster being significantly depleted compared to previous years, almost everyone on the team had a varsity spot.  However, this season was not all doom and gloom. 
This is evident by the team having only nine wrestlers to compete in the district tournament.  
Despite only nine wrestlers entering the district tournament, all nine progressed on to the regional tournament.  Of the nine that progressed two got first place, five got second place, and the final two got fourth place.
"We were elated that we qualified as many kids as we did for regionals." said head coach Randy Qualitza, aka coach Q, "The years I've been here that's the most that have qualified for the regional."
The Regional tournament, was held at Jensen Beach where the team traveled to early in the morning.  At the end of the first day of competition, three wrestlers were eliminated, three had lost one match but were still in the wrestle backs, and the other three were in the semi-finals.
During the early rounds of day two, freshman Danil Korochenskiy  was eliminated, and seniors Alex Bazan who was struggling with a serious hand injury and Thomas Gerdak who surprised everyone with how well he was performing fell one match short of qualifying for states.
The final three who were competing for first place were Junior Marlo Garcia, Senior Anthony Montanez, and Senior Justin Maynard.
Anthony Montanez, who was wrestling at 113 lb was first.  He was facing a taller and lanky opponent who he was familiar with.  Both Montanez and his opponent were very well matched but Montanez utilized his superior strength and speed to outclass his opponent from start to finish.  
Marlo Garcia was up next as he was competing in the 138 lb weight class.  Unfortunately, Garcia was quickly down on points and was unable to get out from under his opponent or mount any successful offense of his own.  Even though he was defeated, he secured both 2nd place in his weight class and a ticket to the state tournament.
The final South Broward wrestler to compete in the regional tournament was Justin Maynard. After some early adversity Maynard came back and locked up his spot at the top of the 152 lb weight division.  
"Competition was easy and I feel I performed not as dominant as I could have been," said Maynard.
Despite being very successful at the regional tournament, the three remaining wrestlers had no time to celebrate as they only had several days to prepare for the state tournament which started the next Friday.  
"It's just a matter of honing your skills and having a fresh mind and body," said coach Q.  
After only several days of practice, the final three along with the coaches departed for Kissimmee where the illustrious state tournament was being held.  
Every four winners in each weight class from every region in Florida was there to compete for the honor of winning 1st place.
Sadly, early in the tournament the wrestling team suffered a serious blow to their chances of having a state champion.
After winning his first match, Montanez moved on to the next round which could end up being his last high school wrestling match.  During the bout in which he was facing a 2x state champ, he suffered a concussion which would cause him to be ruled as unfit to continue.
"I was I was winning 5-2 when I let him up for a point," said Montanez.  "We collided heads and I blacked out for a second coming up wobbly".
Garcia also befell hardship after the first round.  After beating his first opponent via pin, he then went on to himself get pinned in the next round.  After getting sent to the wrestle backs, Garcia was again defeated by a margin of six points, thus eliminating him from the tournament.
Despite the unfortunate results that befell Montanez and Garcia, Maynard blazed his path with four straight wins all the way to the finals.  However, the match started out badly for Maynard who fell to an early point deficit. As the match progressed, Maynard fell behind by 15 points which causes the match to be stopped and his opponent was named the champion of the 152 lb weight class.
"I just flat out got out skilled in the finals, I would just train harder in the future to prepare for that," said Maynard.
With the season over, the team is full of mixed feelings towards the season as a whole.
"I should've had an undefeated season, but I lost two matches because of overconfidence. Other than that season was pretty great," said Maynard. 
About the Writer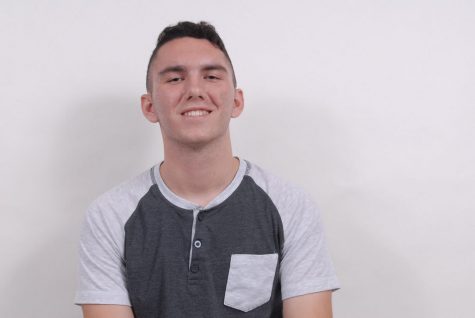 Kai Escobar, Contributor
Kai Escobar is a 17 -year-old senior at South Broward High School whose passions are wrestling and writing. He signed up for journalism due to his interest...