A Hobby Into A Business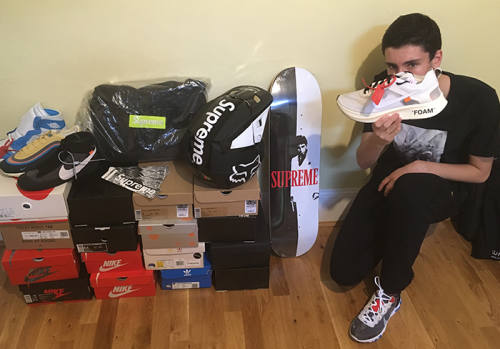 Sneakers have become an essential element in Emmanuel Rodriguez's life. He is a SBHS Junior who found a passion and a job opportunity reselling sneakers.
"Everything started as a hobby and then it slowly turned into serious business," said Rodriguez. "I guess everything happens for a reason."
Rodriguez started reselling sneakers for fun in Summer of 2018.
"I remember watching videos of people buying "hyped" sneakers on the internet, that's when it all started," said Rodriguez.
The value of a pair of sneakers depends on the demand and "hype" for them. Usually, brands promote their sneakers with famous rappers or athletes. For example, adidas just made a collaboration with the popular Reggaeton & Latin Trap singer "Bad bunny" of the Adidas Forum which they sold in two colorways. The Sneakers sold out in the US, Puerto Rico, and Latin America in less than 3 minutes which increased the demand and obligated people who wanted to get a pair to pay more than triple of its original price.
Sneakers have a big influence in Rodriguez's life. The first sneaker he bought was the Adidas Yeezy 350 White cream. They came with the price tag of $220.
"I remember I spent all my savings on that pair, then I sold them for almost triple of the retail price," said Rodriguez.
After selling his first sneaker he started buying and selling non stopping. The most expensive pair of sneakers he sold were the Nike Air Max 97 Off-White ($190) which he sold for $1,600.
"Getting into the reselling game has let me save a lot of money for my future like going to college and many more things for me and my family," said Rodriguez.