Big Dawg's Perseverance: Jaquan Doster
One November morning at South Broward High School, like every other senior in the class, student Jaquan Doster was doing his work. That was until he heard his name on the loudspeaker during announcements. He was confirmed the winner for that month's Big Dawg award of perseverance.
"I didn't think I was going to win at all," Doster said. "I was surprised I won."
In fact, Doster was one of the first winners SBHS has had.
"He and Mr. Saunders were our first two winners in October." assistant principal, Mr. Baker said.
Born December 18, 2001, and raised in Florida, Doster has been doing sports since he was little. With family members who play sports in college and even NFL, he was determined to do the same.
"I used to play basketball, soccer, volleyball, and track," Doster said. "soccer was actually my first sport I played."
On his average day, he wakes at 4:30 A.M. to workout and get ready for school. On some school days, he plays for South Broward's Varsity Football team as a running back and wide receiver with Coach Jah, who's been coaching him for seven years. He then practices after school to work on his speed, strength, and agility.
Doster is currently 19-years-old, and ready to start his journey to college, however he is still discovering what he wants to do. He might start majoring in audio production and editing, but he will still continue his hobby in football which he has been playing since six-years-old.
"Football is life, it's go hard or go home," he said. "I will continue to play football after I graduate."
Football has helped Doster persevere and push himself to learn new skills and even lessons in life. It has been such an important factor in his life, especially since he grew up with it.
One of his influencers include musical artist, Yungeen Ace, who writes rap for others to enjoy, and has inspired Doster. However, he isn't his only and main influencer. 
"My strongest influencer is my dad," he said. "he made me the young man I am today."
Doster has achieved many goals in his life, and has persevered through all the hardships in his life, but he doesn't let them side-track him.
"I was coming to school on time, finishing my work on time, getting to my classes on time everyday, [and] making sure I don't fall behind on my classes," he said. "my parents told me they were proud of me."
"I feel good about winning the Big Dawg Award." he added.
Doster believes that all his hard work will pay off, and that he will have a bright future.
"I'm most proud of how I haven't gave up on everything," Doster said. "'cause' there was some days I wanted to give up on everything, but I had to keep thinking why give up if I made it this far, all that hard work I put in the past was for something."
About the Writer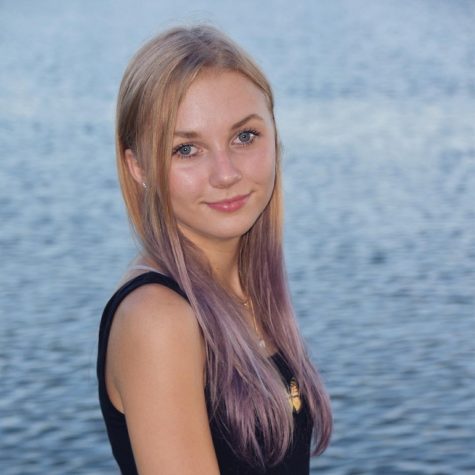 Amelia Petrello, Contributor
Amelia Petrello, a 14-year-old from St. PetersBurg, is a freshman at SBHS.

She wanted to enroll in the journalism class at SBHS because she loves writing...